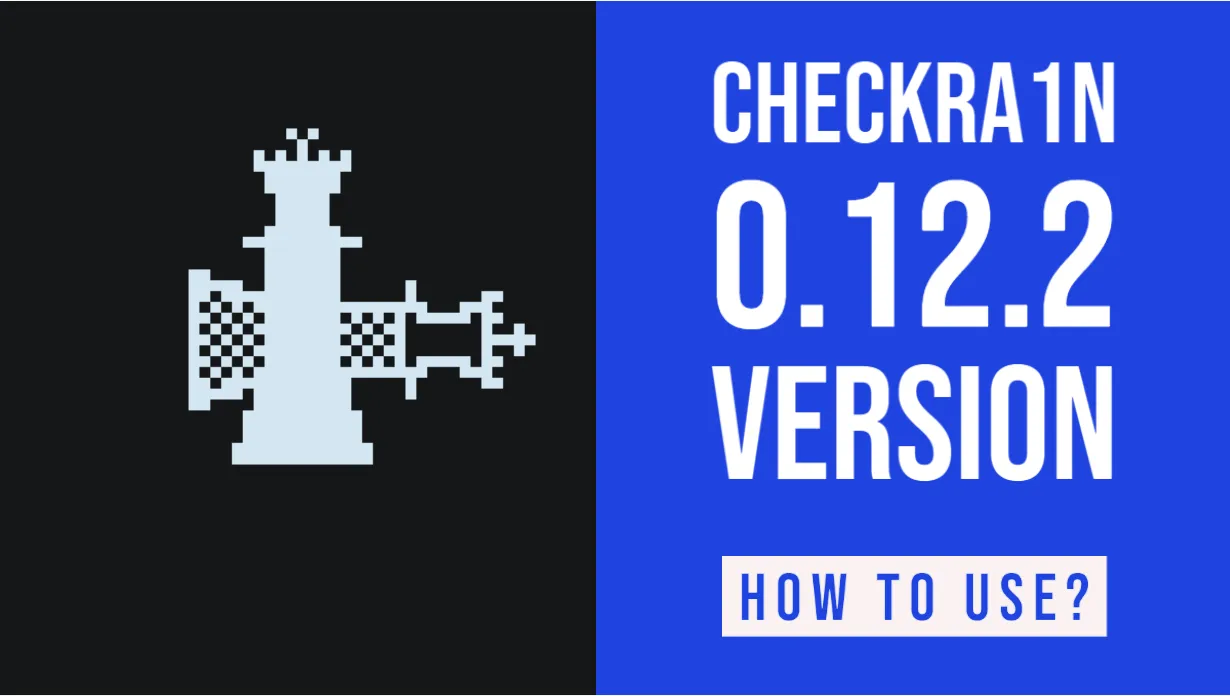 CheckRa1n Jailbreak Tool update to 0.12.2 version: fixed jailbreaking error on iOS 14.3 or higher for iPhone & iPad (A10 and A10X CPU). Download CheckRa1n 0.12.2.
CheckRa1n team follows up iOS updates aiming to make their jailbreaking tool compatible with each new iOS version. This New Year eve delivered a present to all CheckRa1n Jailbreak fans by making the latest iOS 14.3 jailbreak possible on iPhones 5S through iPhone X with the newest CheckRa1n version 0.12.2.
If you weren't familiar with CheckRa1n Jailbreak Tool before, here you'll find all the information you need, including how to use CheckRa1n 0.12.2 and how to jailbreak iOS 14.3 using CheckRa1n 0.12.2.
What's New in CheckRa1n 0.12.2?
The very first thing to say here is that newly released CheckRa1n 0.12.2 is a beta preview. Therefore, it is highly recommended not to install it on primary devices.
Below, you can find all news CheckRa1n Jailbreak tool has and which are listed in their release:
Highlighted changes:
Enables USB on Apple TV 4K during normal system operation
Bugs Fixed
A10 and A10X devices crashing when trying to jailbreak iOS 14.3.
An issue where some LaunchDaemons were loaded on platforms where they should not have been
Below you'll find the list of A10 and A10X devices crash could happen to with earlier releases.
iPhone 7
iPhone 7 Plus
iPod touch 7th generation
iPad 6th generation
iPad 7th generation
iPad Pro 10.5"
iPad Pro 12.9" 2nd generation
So, if you own one of these devices running on iOS and iPadOS 14.3 and experienced this issue, now you have nothing to worry about as this bug was taken care of.
Notes
A11 devices on iOS 14.0 and above require the passcode removal and "Skip A11 BPR check" enabling in the options. This is not recommended, but has to be done for successful jailbreak.
Issues discovered in CheckRa1n 0.12.2
As of now, CheckRa1n Jailbreak tool doesn't work on Apple Silicon Macs.
A7 devices currently don't work with the Linux version.
The exploit's work may be not reliable enough on some devices, such as the Raspberry Pi Zero and Raspberry Pi 3.
Linux GUI build does not support auto assertion of DFU mode on advanced Apple TV 4K breakout board while using CLI mode
bridgeOS: If the cable is disconnected, then once macOS boots, it will take over the USB connection and disallow communication with the T2
CheckRa1n crashing was reported by some users in cases when Chinese was set as the only system language. As at this moment, there are no reports saying that other languages were affected.
Platforms Supported
CheckRa1n 0.12.2 beta version is compatible only with macOS and Linux. The Checkra1n team continues their work on Windows version and hopes to make it available with one of future releases.
Package managers
Currently, Cydia installation is the only package manager supported by CheckRa1n Jailbreak 0.12.2. It is expected that other package managers, including Installer and Zebra, will become supported within coming weeks.
How to Use CheckRa1n 0.12.2
If you are about to liberate your iPhone, iPad or iPod touch from restrictions imposed on iOS by Apple for the first time, here you'll find out how to use CheckRa1n 0.12.2 to jailbreak your supported device running on iOS 12 – 14.3.
Before you actually start CheckRa1n Jailbreak iOS 14.3, there are some preconditions for successful jailbreaking process completion. So, here they are:
Checkra1n Jailbreak Tool currently works only on macOS and Linux. The Windows version is in progress.
Since the CheckRa1n jailbreak is a semi-tethered tool, you need a computer to boot your jailbroken device if it will be powered off.
CheckRa1n Jailbreak Tool supports all 64-bit devices equipped with A5-A11 chips, which are iPhone 5S up to iPhone X with few exceptions: iPad Air 2, iPad (5th generation), and iPad Pro (1st generation).
iOS versions supported are from iOS 12.0 and up to the latest released iOS 14.3.
Cydia package manager is installed by default, but other package managers, such as Installer and Zebra, will be supported soon.
The CheckRa1n team says that their jailbreaking tool officially supports A8, A8X, A9, A9X, A10, and A10X devices running iOS or iPadOS 14 and higher. CheckRa1n Jailbreak Tool allows you to expect the same level of security you have on non-jailbroken devices. Here is the list of the devices this statement is applicable to:
iPhone 6s, 6s Plus, SE, 7 and 7 Plus
iPad 5th, 6thand 7thgenerations
iPad Air 2
iPad mini 4
iPad Pro 1st and 2nd generations
iPod touch 7
As for the newer devices equipped with A11 chips, CheckRa1n will jailbreak iOS 14.3 on these devices as well, which include iPhone 8, 8 Plus, and iPhone X. But there is one thing you should do to have your device jailbroken. You'll have to turn on the "Skip A11 BPR check" option in the CheckRa1n app before you start the jailbreaking process. This way, the passcode on your jailbroken device will be turned off. This action is not recommended for most users as it affects authentication and security. However, this way developers can test their work on newer devices. Our hope is that the CheckRa1n team will find the way to bypass this step on A11 devices running on iOS 14.0 and higher.
Now, that you know how to use Checkra1n Jailbreak, let's get started by following the steps below saying how to jailbreak iOS 14.3 using CheckRa1n 0.12.2.
How to Jailbreak iOS 14.3 Using CheckRa1n 0.12.2
Once you made sure preconditions listed above are met and your device is supported, follow these steps:
Step 1. Connect your device to Mac using an MFI-certified Lightning to USB-A cable. Trust your computer if you are asked to.
Step 2. Download CheckRa1n 0.12.2 version from the official website checkra.in. DO NOT use any other source to avoid malware issues.
Step 3. Once software download is complete, click twice on the .dmg file to open it and drag the CheckRa1n app into Applications folder on your Mac.
Step 4. Open the Applications folder, right click on the CheckRa1n app and left click on the Open option.


Step 5. The CheckRa1n GUI will open and the software should automatically detect your connected device and its firmware type. Once done, click on Start butt on:


Step 6. CheckRa1n Jailbreak Tool will ask you to put your device into DFU Mode. Click on the Next button.


Step 7. Follow the on-screen guide to put your device into DFU mode by clicking on the Start button. Just do what the guide says to succeed.


Step 8. Once your device is in DFU mode, the CheckRa1n will start the jailbreaking process. Please do NOT disconnect your device.


Step 9. At this point, your device's screen should display the CheckRa1n verbose boot screen. Keep your device connected to your Mac until the jailbreaking process is complete.


Step 10. When you see the "All Done" message, click on the Done button to close CheckRa1n app on your Mac.


Step 11. Look at your iOS device's. Now the CheckRa1n loader app should be displayed on the Home screen. Open it.


Step 12. Hit the Cydia cell, then hit the Install Cydia button when it appears.
Step 13. Now, the CheckRa1n loader will start the base system download and Cydia installation:


Step 14. Once finished, the app will be closed and the Cydia icon will appear on your device's Home screen. After you launch it, the following interface should be displayed:



This is it. Congratulations, you have just completed Checkra1n Jailbreaking iOS 14.3 with CheckRa1n 0.12.2!

Download CheckRa1n 0.12.2 Version

We highly recommend you to use ONLY the official website for CheckRa1n 0.12.2 software download. Use this link to get the latest CheckRa1n 0.12.2 Version: https://checkra.in/releases/0.12.2-beta#all-downloads

If you have an earlier version, we still recommend you to use the latest version available as it may contain a number of bug fixes and other improvements making the jailbreaking process with CheckRa1n even more reliable and smoother.