How to

Remove Device Management on MacBook Pro & Air?

When you don't have your MDM key, don't know the username or passcode, your only chance to get rid of the Mac enrollment profile is through CheckM8 software. This tool requires no skills or knowledge to bypass MDM on MacBook Air, Pro, and other supported Macs with M1 and T2 CPU (your operating system can be Big Sur or Monterey).

Use an external drive (if you have one) to back up your files and important data BEFORE you begin to bypass MDM on MacBook Pro & Air!

Here is how your locked MDM device can be prepared for bypassing the MDM profile and removing the device management:
Step 1. Turn on your Apple computer via Recovery Mode using the tips below.

If you've got a Mac with an M1 silicon CPU, start it and press-hold your power button until the startup option appears.

If your MacBook Pro/Air has Intel CPU, click the power button and click-hold Command (⌘)-R: keys afterward. Do so till there is the startup window.



Step 2. Use this instruction (https://support.apple.com/en-gb/guide/disk-utility/dskutl14079/mac) to erase and reformat your storage device in Mac Disk Utility.


Step 3. Now follow these steps (https://support.apple.com/en-us/HT204904) to reinstall your macOS.


Step 4. The computer restarts during the operating system update, showing you the famous Apple logotype and a progress bar at the bottom. You should turn off your router now! This task is crucial for every user who wants to succeed. Don't let your MacBook Pro, Air, or another device automatically connect to the Internet.


Step 5. After installing your macOS, you can set up the computer with no Wi-Fi connection. When you see the "Select a Wi-Fi network" suggestion, choose the "Other network settings" - then "My Mac computer does not connect to the Internet" and complete setting up the machine.


Step 6. You will have to turn on your computer in Recovery Mode again and turn off the SIP feature. Just follow the first step to make it happen.


Step 7. Launch "macOS Utilities" and, from the top, pull down "Utilities." Start the Terminal application by selecting "Terminal" while using the Recovery Mode. Now enter these two commands:



          
            

csrutil disable


            

reboot


          
        




Wait for the MacBook Pro, Air, or another computer to reboot. It happens automatically.
Finally, get CheckM8 software to bypass the MDM profile and get rid of the Device Management program on a compatible Apple computer. Here is how it works:
Step 1. Download the CheckM8 Mac MDM Removal Software and complete its installation on a Mac computer.



Step 2. Launch the tool, press "Start" and be patient as the software checks your device compatibility.
Users whose Mac is compatible with MDM profile bypass will find themselves on a webpage that adds the computer serial number to the CheckM8 database. Now, it is time for the remote management removal and your macOS computer to get back all its features.
Sometimes the checks are unsuccessful. Don't worry. The CheckM8 software will tell you what is wrong, and you can fix it to proceed and achieve success.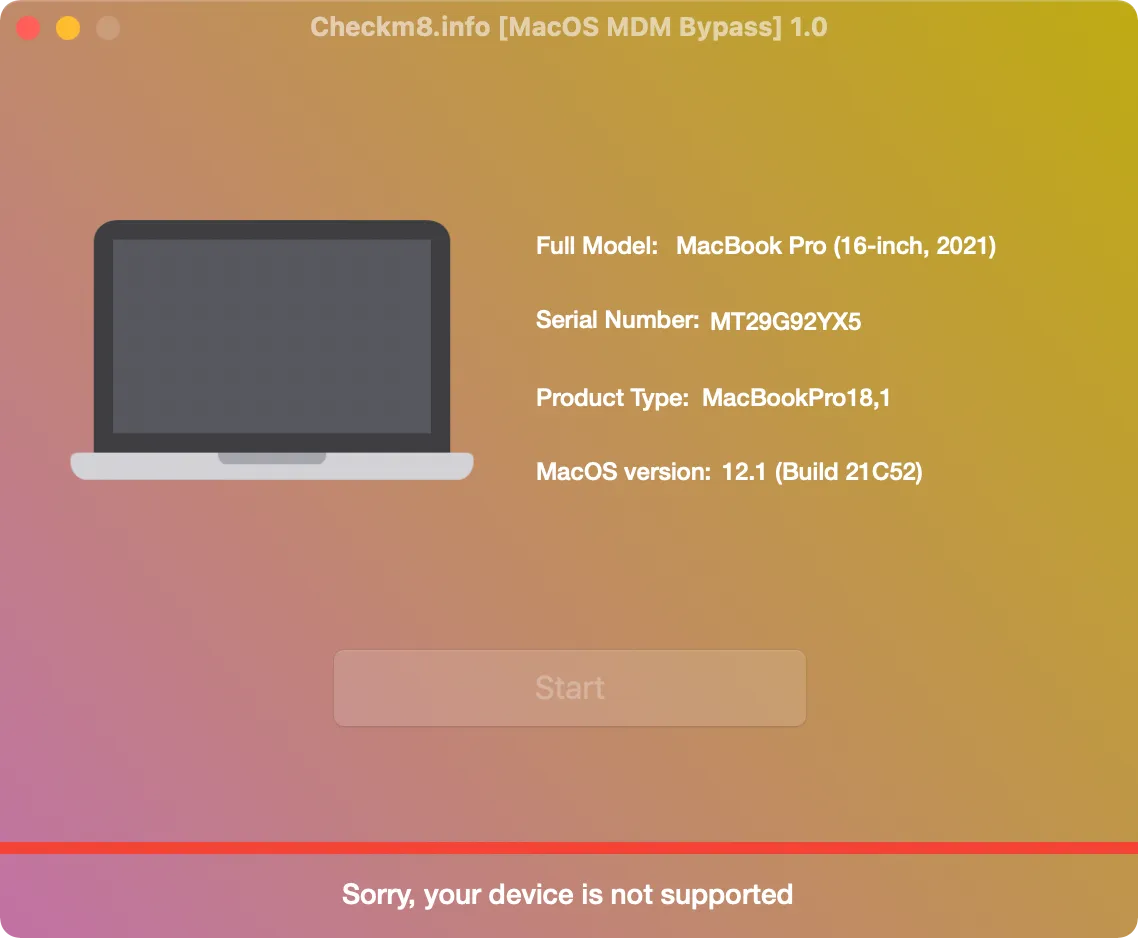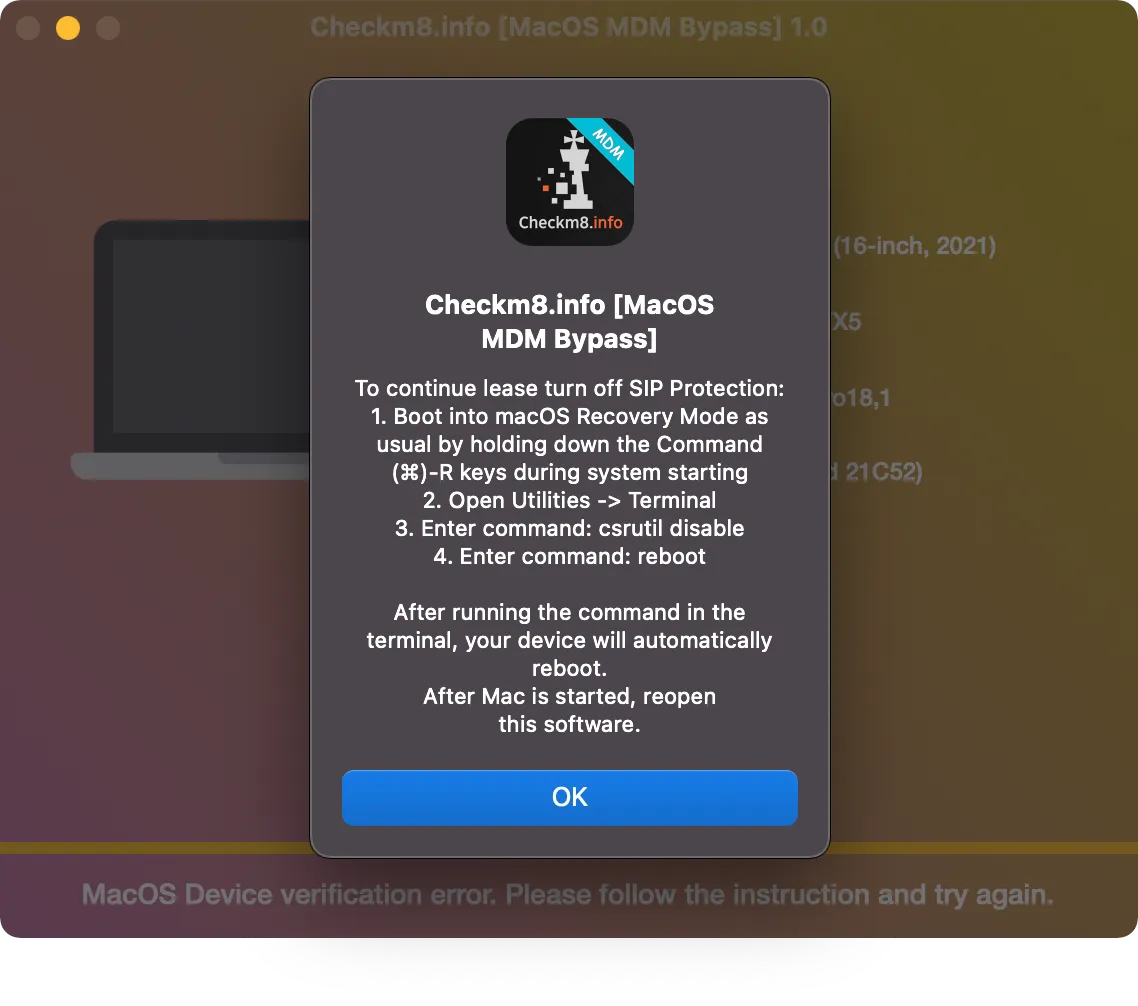 Only when your Mac serial code is included in the CheckM8 database will a single "Start" button appear. Press it to remove Device Management from your MacBook Air & Pro and bypass the MDM enrollment profile within seconds.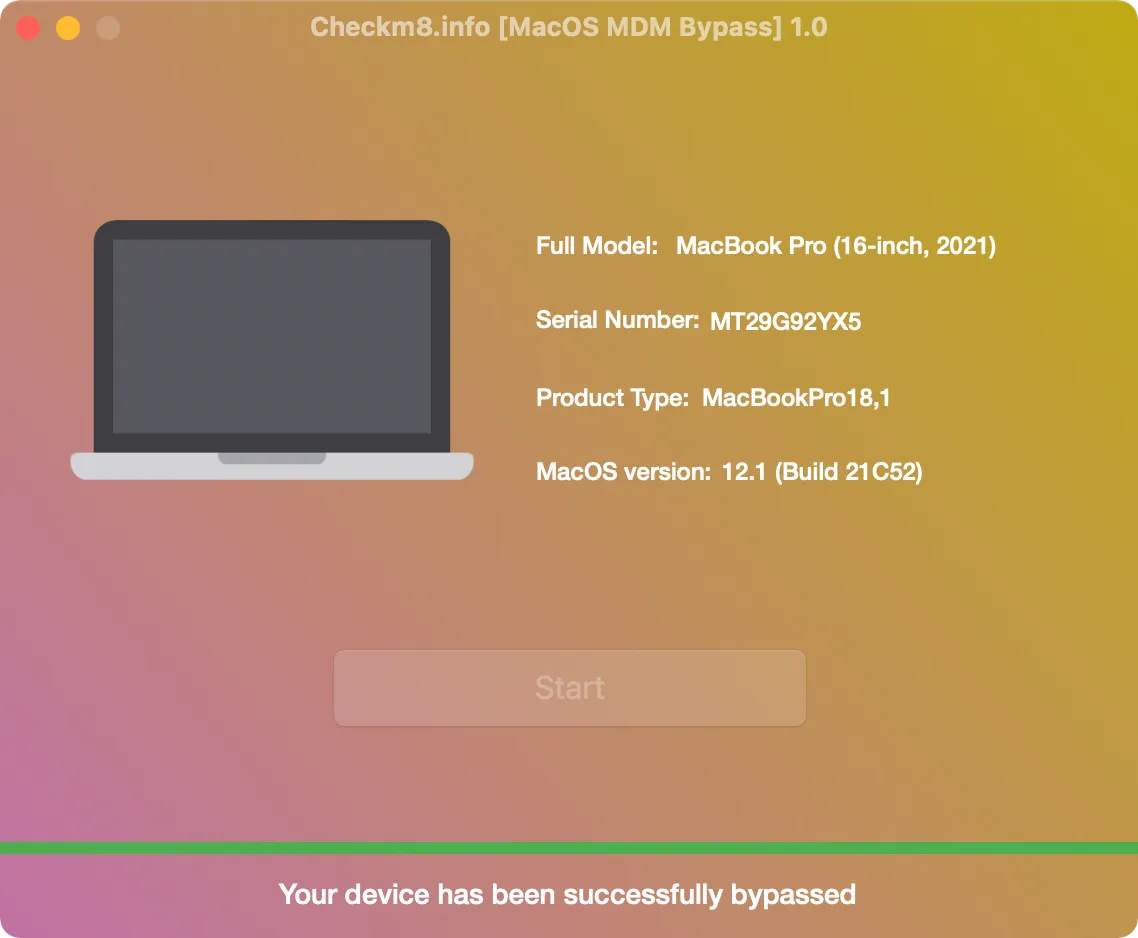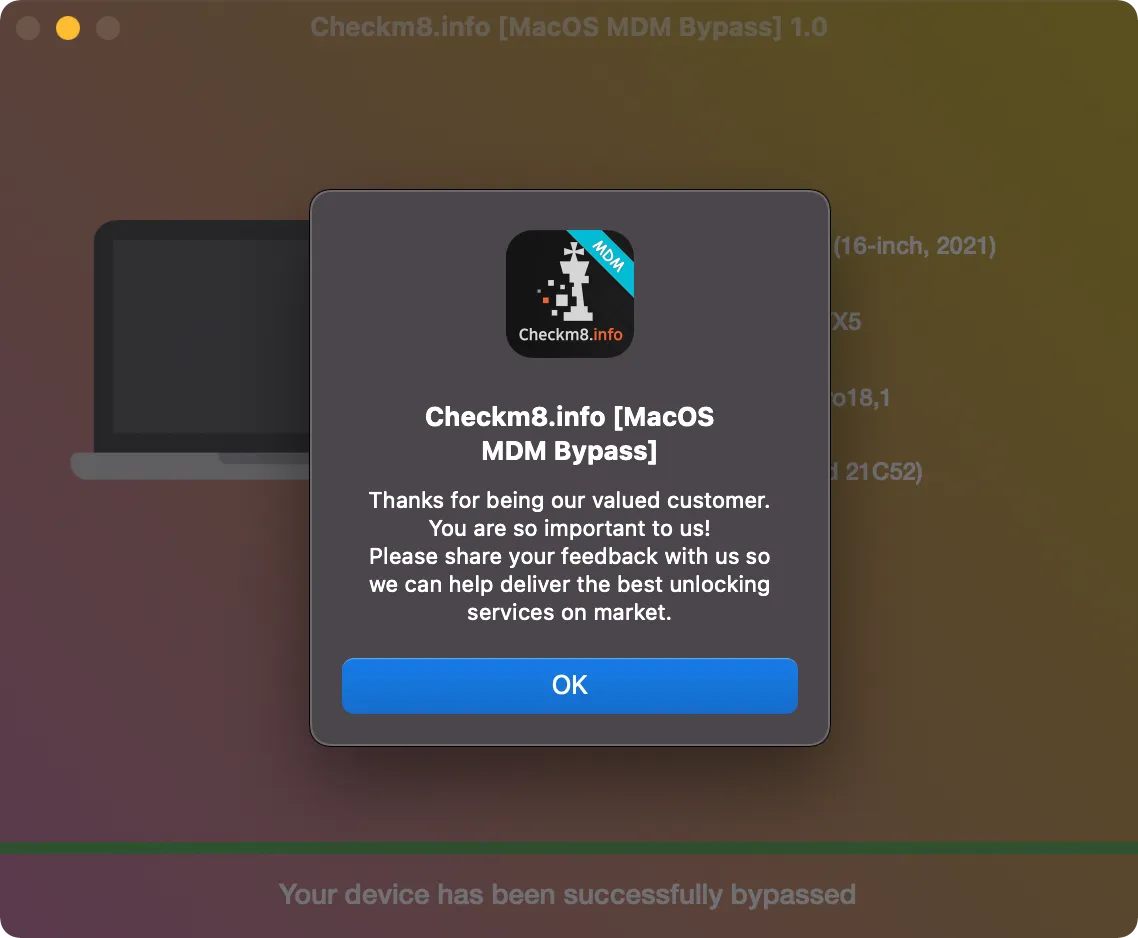 Here comes your complete freedom from Remote Management. Your Mac will have no corporate control and supervision, so you have nothing to worry about anymore.
* Please keep the MDM bypass is only possible on computers running macOS 10.11 or newer versions.