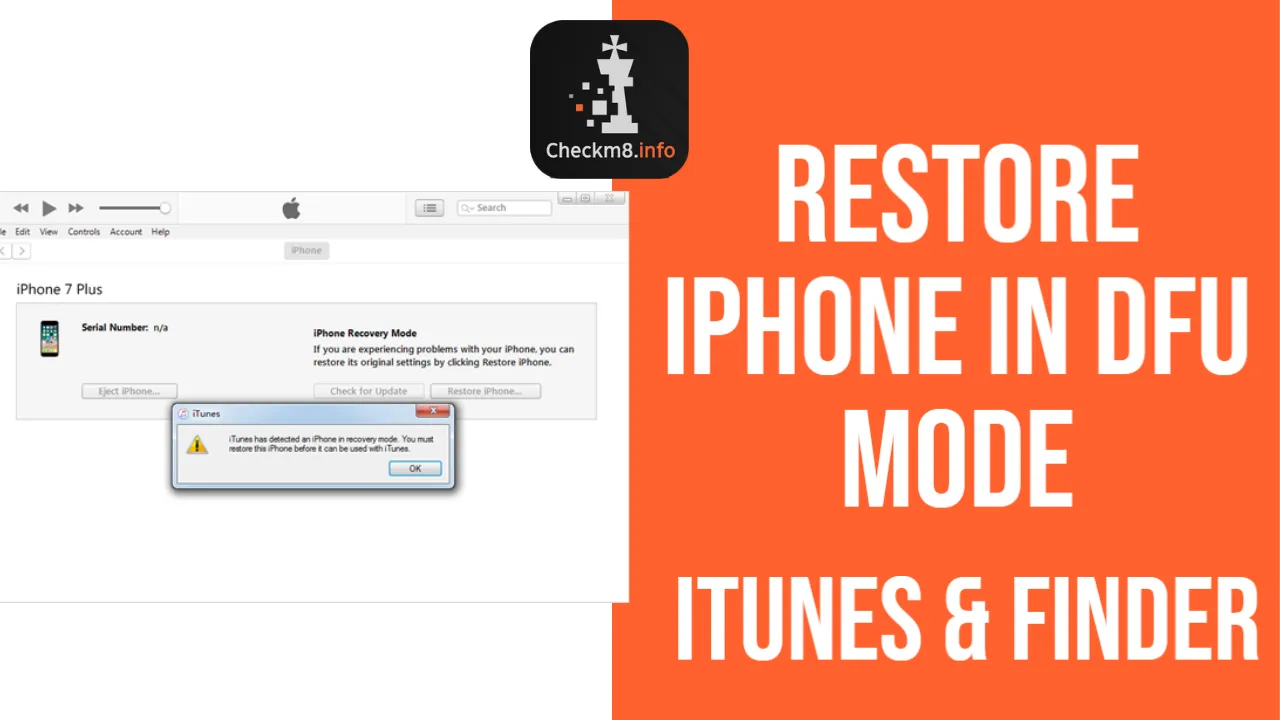 iPhone users who notice how slow their smartphone suddenly becomes and who are tired of regular glitches and other issues can solve their problems now. Regular recovery mode is often helpless when users need to gain control over their hardware or software. It is when DFU restore comes in handy because this mode is a more profound and better solution than standard recovery. Learn how to use DFU mode to restore your iPhone using iTunes or Finder on a computer. Follow the instructions shared by the Checkm8 team and update \ Upgrade \ Restore iOS firmware on an device in any state.
iPhone DFU Restore Mode via iTunes
Device Firmware Upgrade, shortly called DFU, is an in-depth restore opportunity for iOS devices. Apple has designed this feature to help its customers deal with issues that are not resolved after restoring the iPhone to factory settings.
Using the iPhone DFU restore mode, you can recover a smartphone from different states. But please note that this process will also erase all your data. Thus, it is fantastic if you can back up your iPhone via iTunes, Finder, or another app before you learn how to DFU restore it.
Restore iPhone in DFU Mode: Instructions
Depending on your computer, you will need iTunes or Finder app. Users with Windows PC and Macs running Mojave (or previous macOS) should upgrade iTunes to the most up-to-date version. And users with Mac computers with Catalina (or later macOS) should use Finder.
Step 1. Launch iTunes or Finder on your computer. Connect your Apple iPhone to your Mac or PC using a USB to Lightning cable. Your handset can be turned on or off (its state doesn't matter).
Step 2. Enter the DFU mode on your smartphone. Use the button combinations mentioned below according to your iPhone model.

iPhone 8, 8 Plus, X, SE (2nd Gen)

Short click the Volume Up button.
Quick click the Volume Down button.
Long click your Side button. You will see the screen turning black.
Keep pressing Side and click-hold Volume Down for about five seconds.
Release Side but do not let go of Volume Down until iTunes or Finder shows your iPhone.

iPhone 7, 7 Plus

Long click two buttons, Volume Down and Power (Sleep/Wake), for eight seconds.
Let go of Power (Sleep/Wake), but don't release Volume Down until iTunes or Finder detects your smartphone in recovery mode.

iPhone 6S, 6, SE (1st Gen)

Long press both Side (On/Off/Lock) and Home buttons for eight seconds.
Release Side (On/Off/Lock) but keep pressing Home until iTunes or Finder detects your iPhone.

Step 3. When you see its black screen, you will know that you entered DFU mode on your iPhone 8, 7, 6S, SE, X, or another model.

Important! If you see an Apple logotype on your smartphone screen or iTunes (Finder) asking you to connect your handset, you are unsuccessful. It is necessary to redo Step 2 if you want to restore the iPhone in DFU mode and not hold down the Side button for longer than necessary.

You are using iPhone restore DFU mode only if iTunes or Finder notifies you that it has detected a smartphone in recovery mode.

Step 4. iTunes or Finder will ask you if you wish to restore your iPhone. Click "Restore" and wait until DFU restore is complete. Your handset should restart automatically.
Pros and Cons of iPhone DFU Restore
The Checkm8 team must mention the advantages and disadvantages of restoring the iPhone through DFU mode. These are the pros to enjoy:
When you restore the iPhone in DFU mode, you can fix problems that cannot be resolved with a standard recovery;
You can install an older iOS version using DFU mode, which is handy in different situations (for jailbreaking iPhone, unlocking a SIM card).
The cons to consider:
If DFU restore of iPhone takes more than half an hour in Finder (iTunes), it might fail. You must wait for it to finish and then redo all the steps to enter Device Firmware Upgrade mode again;
Sometimes broken components in your smartphone prevent successful DFU restore and cause damage to your device (it becomes a brick);
Instructions on how to DFU restore iPhone are complicated if you are a beginner and might take you several tries to succeed.

After successfully using iPhone DFU restore mode, you will see how your device will work as if new again. The glitches and slowness should be gone, and you can enjoy the flawless iOS run. Just always back up your smartphone to have recent copies of all your data saved. Once you follow the steps to restore the iPhone from DFU mode using iTunes or Finder, all your files will be erased. Please remember it.