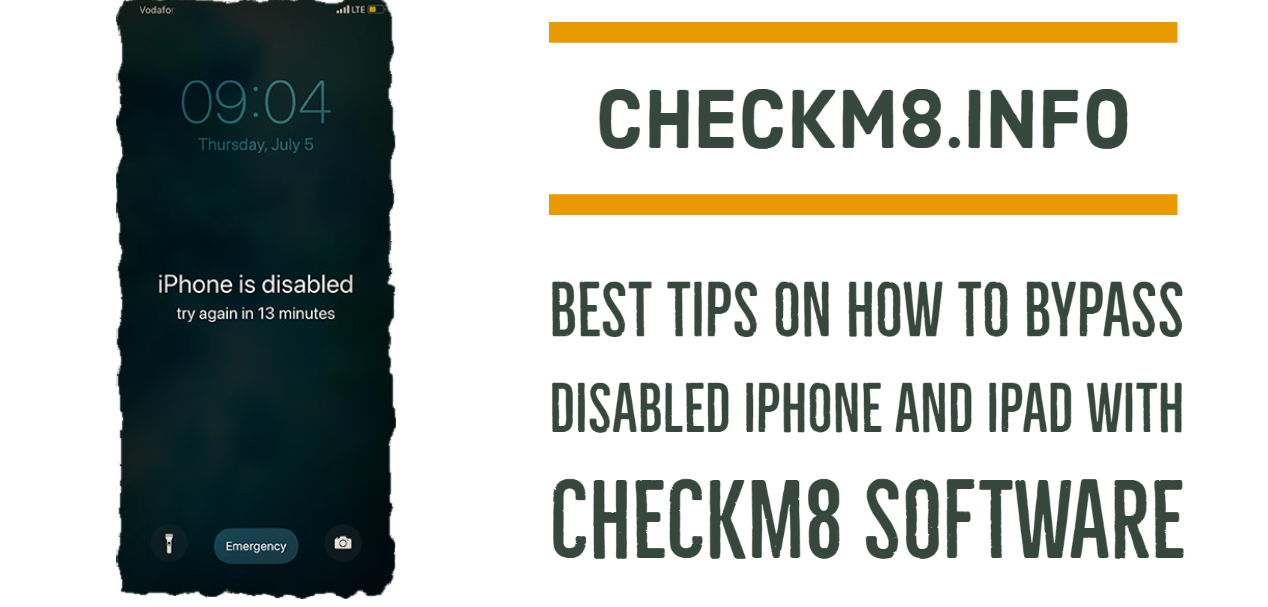 Becoming the owner of a disabled iOS device does not sound encouraging. Whether you forgot the passcode or got a device from a third-party seller, we know how to bypass a disabled iPhone and iPad using trusted CheckM8 software.
The CheckM8 tool can remotely disable Find My app on some Apple devices running on iOS 13.x.x and iOS 14.0 and unlock them.
When iPhone Is Disabled
There is only one reason for your phone or tablet to be disabled. Whenever a person enters an incorrect passcode attempting to enter his or her iCloud ID's password to unlock the screen, the iOS device is trying to protect itself.
If you are wrong six times in a row, your iPhone or iPad gets disabled for one minute. When this time passes, you can make another attempt to enter the correct password. The more times you are incorrect, the longer is the waiting time until the new go-to guess.
However, when someone enters an incorrect passcode for more than ten times, the iDevice will keep showing you the "Disabled" message. And you will not get a chance to try and guess again. The gadget will not be operable unless you learn how to fix a disabled iPhone or iPad after incorrect passcode and bypass the iCloud lock.
Simply erasing the gadget will not solve the problem. But CheckM8 software will easily unlock passcode disabled iPhone and iPad.
It will make your gadget operable. You will be able to connect to a Wi-Fi network, call your friends, download applications, use your ID, etc.
Phone Disabled Bypass
What to do when the iPhone is disabled, and you forgot the passcode? Use CheckM8 software to bypass iPhone "Disabled" message or unlock your iPad.
This tool is the most reliable fix you can find in the market today. It has successfully bypassed lock on numerous iPhone and iPad models running iOS 13.4, 13.5, 13.6, 13.6.1, 13.7, and 14.x.x
It will fix your "iPhone Is Disabled" problem. And it does not matter that you forgot the passcode because the password is not required for CheckM8 software to bypass the locked screen successfully.
The CheckM8 tool relies on the CheckM8 exploit, used in Checkra1n Jailbreak for jailbreaking iOS 13.x.x and 14.00 firmware. Thus, CheckM8 software can bypass the disabled iPhone or iPad if it has been jailbroken. But it runs on Mac OS only.
How Do I Unlock iPhone or iPad Disabled When I Forgot the Passcode
The CheckM8 software will bypass passcode disabled iDevice in a single click. This tool is simple to use, requires no tech knowledge on your side, and unlocks your device distantly. It guarantees a permanently disabled iPhone bypass if you meet these requirements. You have one of these iOS 13.x.x devices (supported firmwares are iOS 13.4, 13.5, 13.6, 13.6.1, 13.7):
iPhone 6s or 6s Plus;
iPhone 7 or 7 Plus;
iPhone 8 or 8 Plus;
iPhone SE first generation;
iPhone X;
iPad 5, 6 or 7;
iPad mini 2, 3 or 4;
iPad Air or Air 2;
iPad Pro 9.7", 10.5" or 12.9" (first and second generation).
You have one of these iOS 14.0 devices:
iPhone 5;
iPhone SE;
iPhone 6s or 6s Plus;
iPad Pro first generation;
iPad mini 4;
iPad Air 2.
You have a Mac PC. CheckM8 software works on Mac OS only.
Main requirements for using CheckM8 bypass:
Mac OS;
Supported iOS version;
Supported iPhone or iPad model.
How to fix the "iPhone is disabled" problem with CheckM8 bypass software:
Step 1. Make sure your device model and the iOS version are supported by the CheckM8 bypass tool, and you are using Mac OS.
Step 2. Download the CheckM8 software.
Step 3. Connect a passcode disabled device to Mac.
Step 4. Run CheckM8. The software will make sure you have a jailbroken gadget and that CheckM8 software supports it.
Step 5. If everything is ok and you are supported, you should be redirected to a new page to make payment.
Step 6. Pay for the service to bypass passcode disabled iPhone or iPad. The database will automatically record your IMEI or serial number as soon as payment gets cleared. You will receive a lifetime license to use the Check8M bypass for one disabled device.
Step 7. Disconnect and connect your device back to your Mac.
Step 8. In Check8M software, click the "Bypass" button.
Step 9. Let the software bypass the "disabled" lock your device. Do not touch anything, and do not turn off the gadget. Please wait for it to reboot. The bypass will be done when Check8M shows a notification that iCloud unlock is completed.
Step 10. Hooray! Your Apple gadget is no longer disabled. It is now a workable device that you can use for placing and receiving calls. You can download apps from the App Store, use your iTunes and Apple ID, install and communicate through Facebook, Twitter, and other mobile applications.
Here are the advantages you get after bypassing a disabled Apple device with Check8M:
Use your Apple ID;
Connect to iTunes;
Install apps from the App Store;
Make and receive calls;
Use social networks and Wi-Fi connections, etc.
Even if you forgot passcode and now have a disabled iOS device, you can easily unlock it. Use CheckM8 software and bypass your disabled iPhone and iPad remotely with one click. It is as easy as it sounds!
The Checkm8 team is always on the software improvements and updates. Please follow us on Twitter or Telegram to stay tuned on the latest updates related to the Checkm8 software!