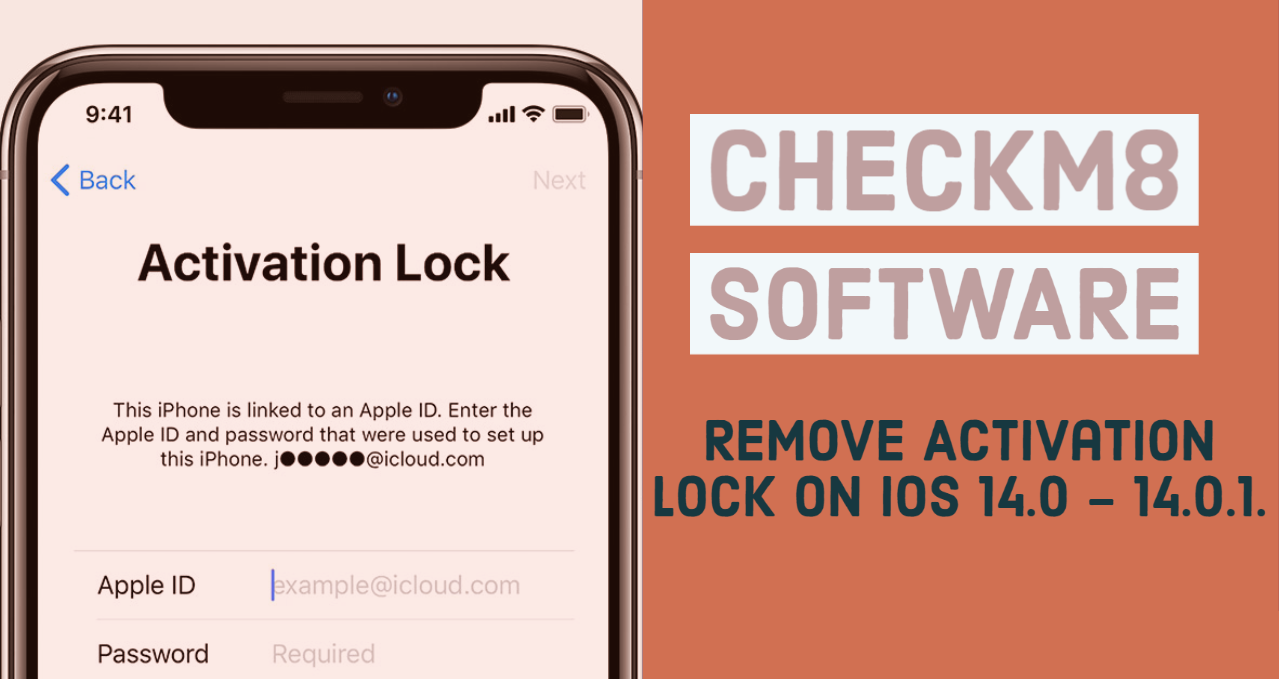 Checkm8 Software is ready to remove the iCloud Activation Lock screen on CPU 9 - 9X iPhones and iPads running on the latest iOS versions 14.0-14.0.1.
Long awaited iOS 14.0 was released in mid-September and its update iOS 14.0.1 was released shortly after that. The good news for Checkm8 Software users is that our dev team has already integrated the latest Checkra1n Jailbreak version 0.11.0 into iCloud Activation Lock Screen Removal software.
Since jailbreak with Checkra1n is a must for successful Activation Lock Screen removal, the list of iPhone and iPad models supported is currently limited to:
iPhone 6s, 6s Plus, and SE
iPad 5th generation
iPad Air 2
iPad mini 4
iPad Pro 1st generation
The reason for such a temporary restriction is that, as at now, Checkra1n Jailbreak supports only devices running on CPU 9 - 9X. However, users of the following devices running on newer chips have nothing to worry about as Checkra1n team promised to release the updated jailbreak version capable to jailbreak devices listed below within coming weeks:
iPhone 7 and 7 Plus
iPad 6th and 7th generation
iPod touch 7
Pad Pro 2nd generation
Therefore, our recommendation to these devices owners is not to update to iOS 14.0 and 14.0.1 until further notification on the Checkra1n Jailbreak update and its integration into Checkm8 Software. If your device still runs on iOS 13.7, you can use Checkm8 Software to remove Activation Lock Screen whenever you need.
NOTE! Please do not update your iPhone 7, 7 Plus and newer to iOS 14.0 or 14.0.1 until further notice! Follow us on Twitter to stay tuned on the latest news!
Regarding iPhones 8, 8 Plus & X, Checkra1n is not certain about these devices jailbreaking yet. So, all we can do about it is to wait for the new information in hope they will make things work. The problem is that Apple has implemented new security measures on these devices which makes the jailbreaking process harder but not impossible.
What's new in iOS 14.0 and 14.0.1?
The main highlight of iOS 14 is a new design made for the home screen with widgets and App Library.
App Library automatically organizes all the apps installed on your iPhone and makes navigation even easier for a user by sorting them by categories.
Smart Stack of widgets is another new thing. It collects widgets of the apps you use the most for your convenience and quick access.
Compact calls feature doesn't need a whole screen to display incoming call while you are using your iPhone. Picture in Picture allows you to continue watching a video or having your FaceTime call while using other apps.
Other updates include new features related to pinned messages, group photos, mentions, new Memoji styles and stickers, Maps improvements, compact Siri design, all-new Translate app and more.
In a week or so, iOS 14.0.1 was released to fix some bugs about Wi-Fi connection and emails sending from some providers.
What is Activation Lock Screen?
iCloud Activation Lock Screen is an issue related to the security and requiring Apple ID and password entering. Otherwise, it blocks access to iPhone or iPad making its usage impossible. In case a user lost or forgot their Apple ID and/or password, the device is stuck on Activation Screen.
In order to unlock your iPhone or iPad, you need to have access to the recovery email, phone number or original purchase proof to submit it to the Apple Customer Support. Checkm8 Software becomes a solution for those who can't use the options mentioned above for whatever reason as iCloud Activation Lock Screen Software by Checkm8 will unlock your iPhone or iPad just in 1 click.
How to Remove iCloud Activation Lock Screen from iPhone or iPad on iOS 14.0 – 14.0.1?
Checkm8 Software is a professional and easy to use tool developed for the purpose of iCloud Activation Lock Screen removal. It will remove the Activation Lock Screen from your iPhone or iPad just in 1 click!
Please note, at this time, Checkm8 Activation Lock Screen Removal Software is compatible only with the following devices running of iOS 14.0-14.0.1:
iPhone 6s, 6s Plus, and SE
iPad 5th generation
iPad Air 2
iPad mini 4
iPad Pro 1st generation
All you need to do to remove iCloud Activation Lock Screen from your iPhone or iPad is:
Download Checkm8.info Activation Lock Bypass Software, install it on your Mac PC. Connect your iPhone/iPad/iPod to your PC.
Software will verify if your device is supported.
Place your service order and remove Activation Lock Screen on your iPhone, iPad or iPod touch.
Please use our Video Guide or Step-by-Step Guide to have a clear picture of how the Jailbreak with Checkra1n and Activation Lock Screen removal process itself look like. Both guides are available for Checkm8 customers to make the unlocking process as simple as possible. In addition, Checkm8 Software is very easy to use even for inexperienced users and requires no tech skills or training.
Checkm8 dev team has implemented a verification step for you to make sure that your device is supported by Checkm8 Software. This way, you won't make any erroneous payment in case your iPhone or iPad is not supported.
Checkm8 Software offers iCloud Activation Lock Screen removal with two options, which is with GSM module activation, or without it. Please note, GSM module can be activated solely on GSM iPhone versions.
Another advantage of Checkm8 Software is that you can use it as many times as you need after each iOS update or factory reset for free! In other words, once you made payment, you receive a lifelong license for the device indicated in your order form.
Still hesitating? Just use Checkm8 Software and enjoy your restrictions free iPhone or iPad with your own Apple ID!
The Checkm8 team is always on the software improvements and updates. Please follow us on Twitter to stay tuned on the latest updates related to the Checkm8 software!