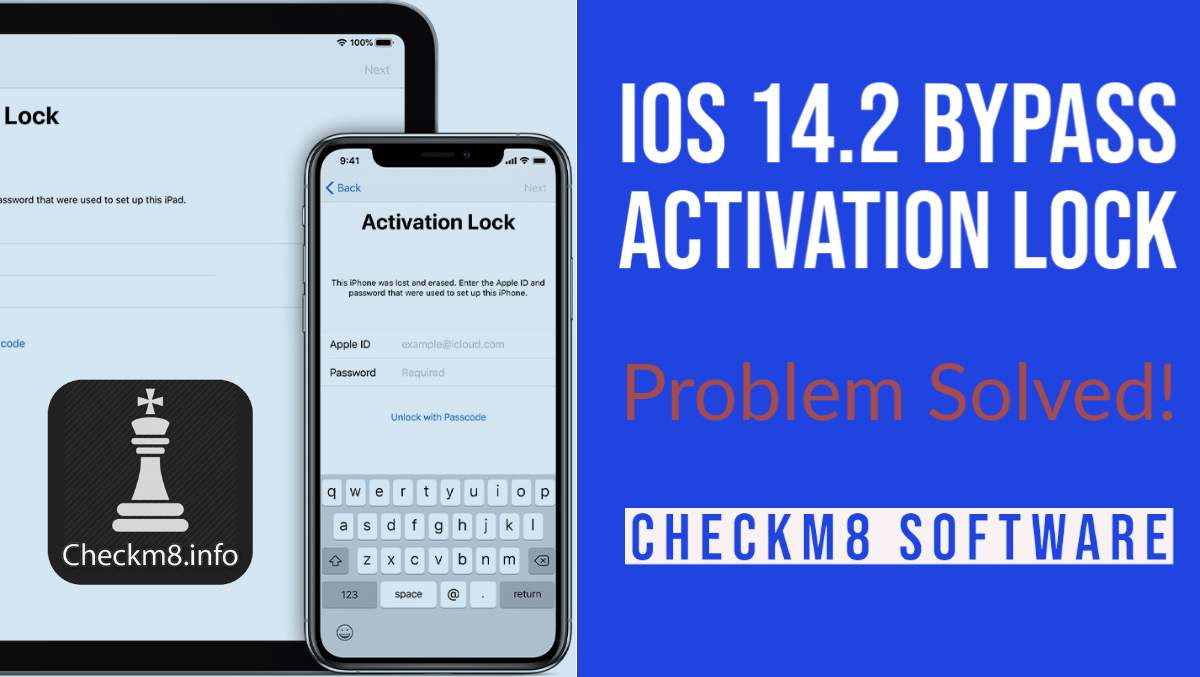 iOS 14.2 was just released and Checkm8 Software is ready to remove iCloud Activation Lock Screen on iPhones and iPads running on this latest version.
The Checkm8 dev team continuously updates Checkm8 Software based on iOS updates. This allows our customers to easily remove iCloud Activation Lock Screen on iPhones and iPads on iOS 14.2 in 1 click.
How to remove Activation Lock Screen on iOS 14.2 iPhone or iPad?
iCloud Activation Lock Screen bypass is very easy with Checkm8 Software. This reliable and trusted tool will remove Activation Lock from your iPhone or iPad running on iOS 14.2 in one click. Once your device is unlocked, you can use your Apple ID on it.
Like all Checkm8 tools, Remove iCloud Activation Lock Screen Software is easy to use and requires three simple steps:
1. Download Checkm8.info Software, install it on your Mac and connect your iPhone/iPad/iPod to it.
2. Software will verify if your device is supported.
3. Place your service order and remove Activation Lock Screen on your iPhone, iPad or iPod touch.
You can order iCloud Activation Lock Screen removal service with and without GSM module activation. Please refer to the service description to make sure GSM module activation is supported for your iPhone or iPad on iOS 14.2.
Download Checkm8 Activation Bypass Software, place your order and enjoy all the features of your Activation Lock free iPhone or iPad running on iOS 14.2 with your own Apple ID!
What's new in iOS 14.2?
iOS 14.2 is the latest iOS update and it was released just two weeks after iOS 14.1 release. These both updates contain improvements for iPhone & iPad work and some other new features. Let's take a closer look at what iOS 14.2 has to offer.
Emoji updates. Since Fall is time for Emoji updates, 13 new Emoji characters were added to iOS 14.2: smiling face with tear, ninja, pinched fingers, anatomical heart, black cat, mammoth, polar bear, dodo, fly, bell pepper, tamale, bubble tea, potted plant, piñata, plunger, wand, feather, hut, etc.
New wallpapers. 8 new wallpapers are available on iOS 14.2. They were designed for both dark and light modes. You are free to choose between artistic and realistic scenes to customize your iPhone.
Intercom is a new feature allowing to use HomePod, HomePod mini and other devices as intercoms throughout the home. Intercom also allows family members to exchange voice messages using HomePod speakers or iPhone, iPad, Apple Watch, AirPods, and CarPlay. You can activate Intercom by saying "Hey Siri, Intercom" and say your message. You can use it even if you are not home.
Shazam now can be added to the Control Center which allows you to recognize music around you much faster in a more convenient way. You can add it to the Control Center in Settings app which will give you a faster response than asking Siri or Shazam app opening.
Now Playing Widget was redesigned in the Control Center. Now it lists recently played albums when music is not playing. The AirPlay interface was redesigned as well. It makes playing music across AirPlay 2-comaptible devices at the same time easier.
New Apple Watch App icon. The icon was changed a bit and now the band on it looks like one of the new Solo Loop Apple Watch bands designed for Apple Watch Series 6 and SE.
Optimized battery charging for AirPods. iOS 14.2 update optimized AirPods battery charging which should slow the battery aging and full charge should take less time.
People Detection feature was added for visually impaired users in the Magnifier app. This feature uses an iPhone camera and notifies a user how far other people are. People Detection is a useful tool in regards to social distancing during the pandemic.
Apple Card feature was updated and now yearly spending history is available for users using iOS 14.2. Earlier versions were limited to a weekly or monthly history.
The Checkm8 team is always on the software improvements and updates. Please follow us on Twitter to stay tuned on the latest updates related to the Checkm8 software!