Checkm8 Software is the perfect tool for permanent unlock of a disabled iPhone or iPad on iOS 13.6.1. The passcode unlocking service will make your iPhone or iPad absolutely unlocked which will allow you to use your own Apple ID for Apps installation from the App Store and restrictions free Internet surfing.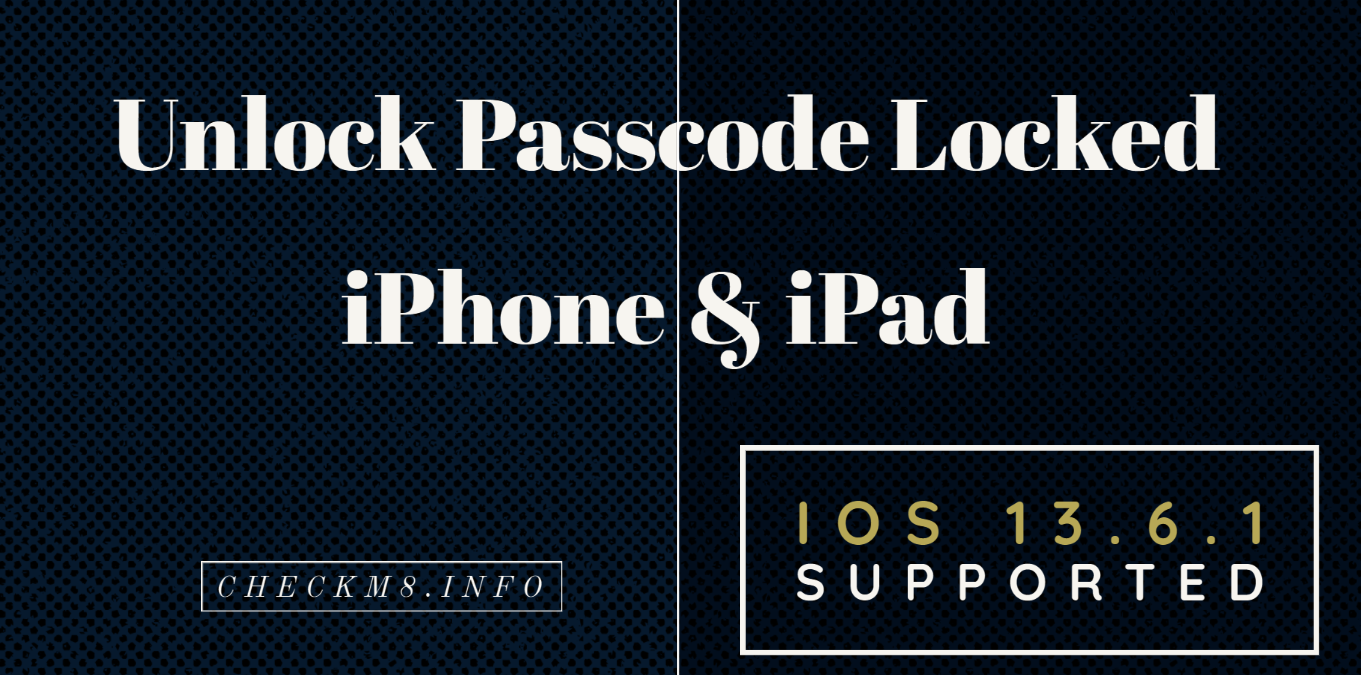 Checkm8 Software supports iOS 13.6.1 version. Please note that you can use it to Unlock Passcode only once and solely for the device IMEI or Serial Number of which you indicate in the order form. Once the unlocking process is completed, all the data stored on the device will be erased.
Checkra1n Jailbreak is a must for your passcode locked device for successful unlocking with Checkm8 Software. The good news is that Checkra1n is already built-in into Checkm8 Software, so there is no need to search and install it from any other source.
iOS 13.6.1 news
iOS 13.6.1 release was a surprise for the Apple community. None expected any update other than iOS 14 release scheduled for this Fall. However, Apple decided to fix some bugs iPhone owners faced while using their devices. So, the purpose iOS 13.6.1 was released for is following issues fixing:
An issue where unneeded system data files might not be automatically deleted when available storage is low.
A thermal management issue that caused some displays to exhibit a green tint.
An issue where Exposure Notifications could be disabled for some users
What is Passcode Lock on iPhone or iPad?
Passcode is a security measure to protect personal information stored on iPhone or iPad and a device itself from unauthorized access and use. In other words, if an iPhone or iPad is passcode locked, you are required to enter a passcode to unlock a device and use it. If you forgot your passcode for any reason, you can't access your Apple device.
If this is your case, you have a need in passcode unlock for your iPhone or iPad and Checkm8 tools are there to help you out.
How to Unlock Passcode Locked Disabled iPhone or iPad on iOS 13.6.1?
Once you decide to use Checkm8 Software, you are just three simple steps away from the passcode unlock of your iPhone or iPad running in iOS 13.6.1. These steps are:
Download Checkm8.info software on your Mac PC and install it. Connect your iPhone, iPad or iPod to Mac.
Put your iPhone or iPad with passcode lock into recovery mode. Jailbreak your device with Checkra1n Jailbreak tool. Once the jailbreaking process is completed, Checkm8.info software will check the device's compatibility.
Place your service order and remove passcode lock screen from your iPhone or iPad.
The process is very simple and Checkm8 Software is very easy to use. Just follow the onscreen guide to complete the passcode unlocking process. Our team has created a video guide for your convenience, as well as a step-by-step manual . You don't need any training or tech background to use our software.
Use Checkm8 Software to unlock your passcode locked iPhone or iPad on iOS 13.6.1 and enjoy your permanently unlocked device with no restrictions!