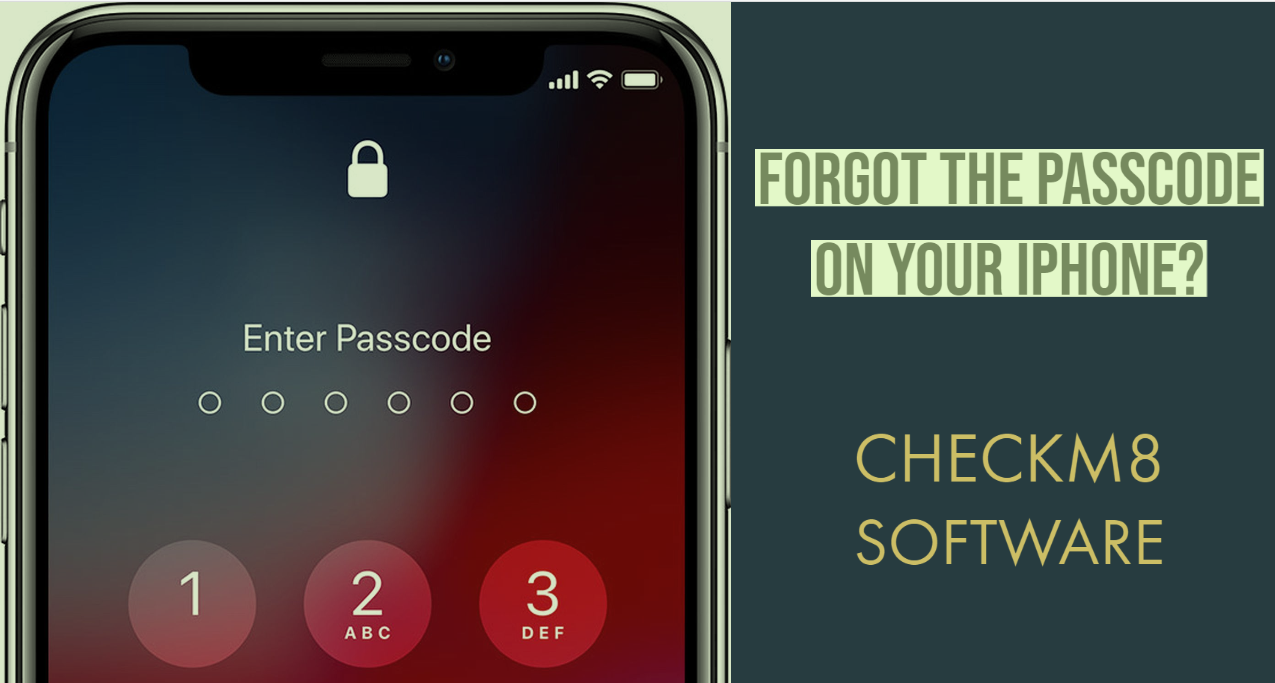 It happens quite often that people forget passcodes for their iPhones. What happens in this situation is that your iPhone becomes locked and you see the message saying "iPhone is Disabled". This passcode lock appears after you enter an incorrect passcode several times. Usually, the timer under the "iPhone is Disabled" message shows when you can try to enter the passcode again. This time may vary from 1 minute up to 60 minutes and depends on how many times you've entered the incorrect passcode. In case you've entered incorrect passcode too many times, your iPhone will become permanently disabled, or passcode locked.
What to do if you find yourself in a situation like this? There is a simple and reliable solution. Checkm8 dev team developed the software capable to remove Passcode Lock Screen on Disabled iPhone & iPad running on iOS versions 13.x.x - 14.x.x
Before you use Checkm8 Software to unlock your passcode locked iPhone or iPad, your device should be jailbroken with Checkra1n Jailbreak. The advantage of Checkm8 Software is that Checkra1n is already integrated into it. This makes things much easier for users as they don't need to search for Checkra1n Jailbreak and download it as a separate software.
Passcode disabled following devices running on iOS 13.x.x:
Checkm8 Software supports Passcode disabled following devices running on iOS 13.x.x:
iPhone SE, 6, 6S, 7, 7 Plus, 8, 8 Plus and X models
iPad Air (1, 2), iPad Mini (2, 3, 4), iPad (5, 6, 7), iPad Pro (1, 2), iPad Pro (9.7 & 10.5 in.)
Passcode disabled following devices running on iOS 14.x.x:
As for the devices running on iOS 14.0, the list of the devices currently supported is limited to following devices:
iPhone 6s, 6s Plus, and SE
iPad 5th generation, iPad Air 2, iPad mini 4, iPad Pro 1st generation
The reason for such temporary support limitation for the devices running on iOS14 is that the Checkra1n team needs more time to make things work with newer devices. According to the Checkra1n team, users of iPhones 7, 7 Plus, iPads 6th and 7th generation, iPod touch 7 & iPad Pro 2nd generation will be able to jailbreak their devices within the coming weeks. Regarding iPhones 8, 8 Plus & X, they are not certain yet.
Once updated Checkra1n Jailbreak version is uploaded, Checkm8 will integrate it into Passcode Lock Screen Removal Software right away.
Please note, your iPhone will be reset to factory settings once the passcode lock screen removal process is complete. This means, all the data will be erased from the device. You'll be able to use your Apple and iTunes ID on the unlocked device and your device will be in workable condition.
Checkm8 software is very easy to use and you'll have your passcode locked iPhone unlocked just in one click. All you need to do is:
Download Checkm8.info software on your Mac PC and install it. Connect your iPhone, iPad or iPod to Mac.
Put your iPhone or iPad with passcode lock into recovery mode. Jailbreak your device with Checkra1n Jailbreak tool. Once the jailbreaking process is completed, Checkm8.info software will check the device's compatibility.
Place your service order and remove the passcode lock screen from your iPhone or iPad.
Remove Passcode on disabled iPhone just in 1 click with Checkm8 Software and use your restrictions free device!
The Checkm8 team is always on the software improvements and updates. Please follow us on Twitter or Telegram to stay tuned on the latest updates related to the Checkm8 software!