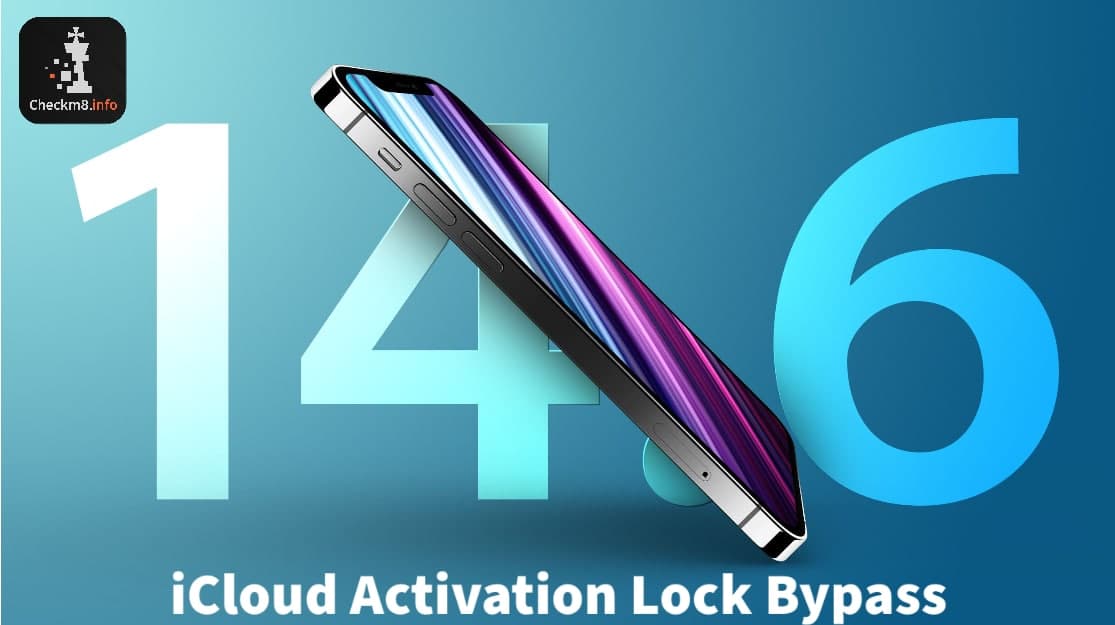 The long-expected bypass for iOS 14.6 iCloud Activation Lock is finally here. Using the updated CheckM8 tool, it is now possible to fix the iCloud Lock problem on many iPhone and iPad models. The tool works remotely and boasts a user-friendly interface, excellent on-screen guides, fast speed, and reliable results.
It only takes a single click of a button to bypass iOS 14.6 iCloud Activation Lock via the CheckM8 tool. The simplicity of the bypass software makes it an impressive solution for users who are not tech-savvy. Besides, the iCloud Lock bypass is possible without Apple ID and passcode.
CheckM8 with iOS 14.6 Support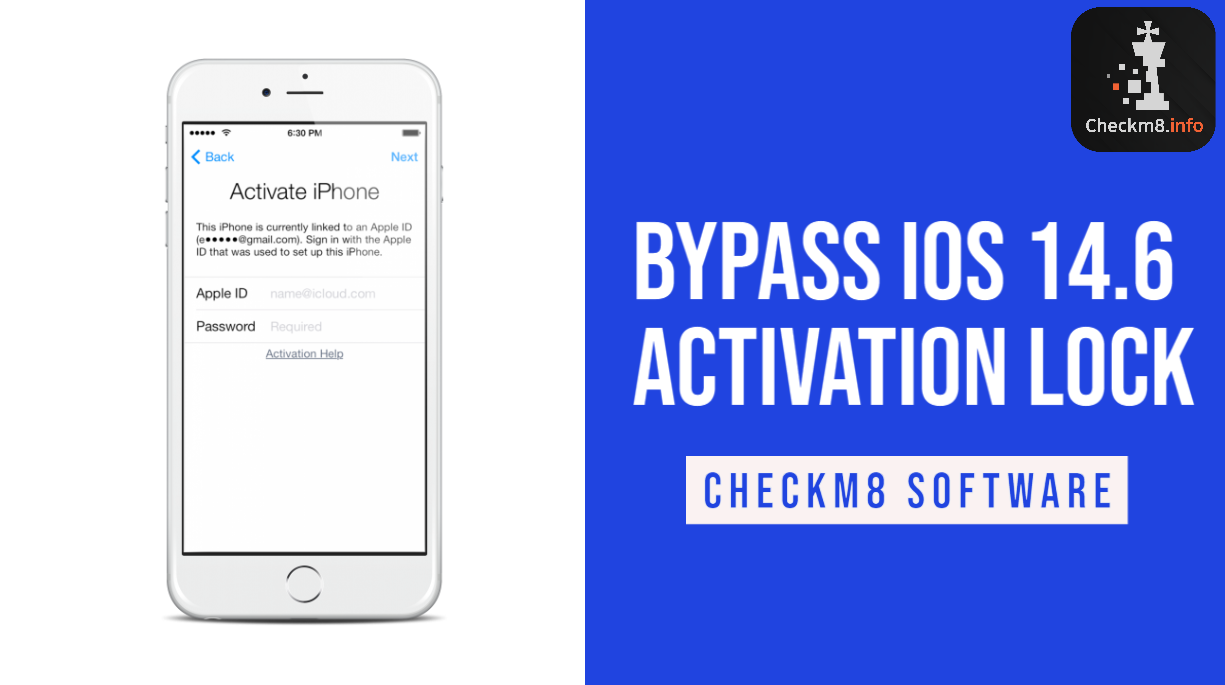 The CheckM8 Tool can bypass iOS 14.6 iCloud Activation Lock thanks to the Checkm8 bootrom exploit found in some versions of iOS.
This exploit allows removing Apple restrictions through Checkra1n Jailbreak iOS 14.6, which also relies on Checkm8 bootrom exploit.
Some time ago, it was only possible to jailbreak iOS 12.0 through iOS 14.4.1 and later iOS 14.5. The most recent Checkra1n update brought support for iOS 14.6, and this news sounds exciting.
The CheckM8 iCloud bypass tool comes with the latest version of the semi-tethered Checkra1n. It is 2-in-1 software that saves your time. You do not need to download the Checkra1n separately because you can use this jailbreak along with the CheckM8 bypass.
Right after jailbreak, your iPhone or iPad is ready for iOS 14.6 iCloud Activation Lock bypass with CheckM8. It is a perfect solution for every user who does not know or remember the Apple ID and passcode.
Bypass iOS 14.6 iCloud Activation Lock via CheckM8 Tool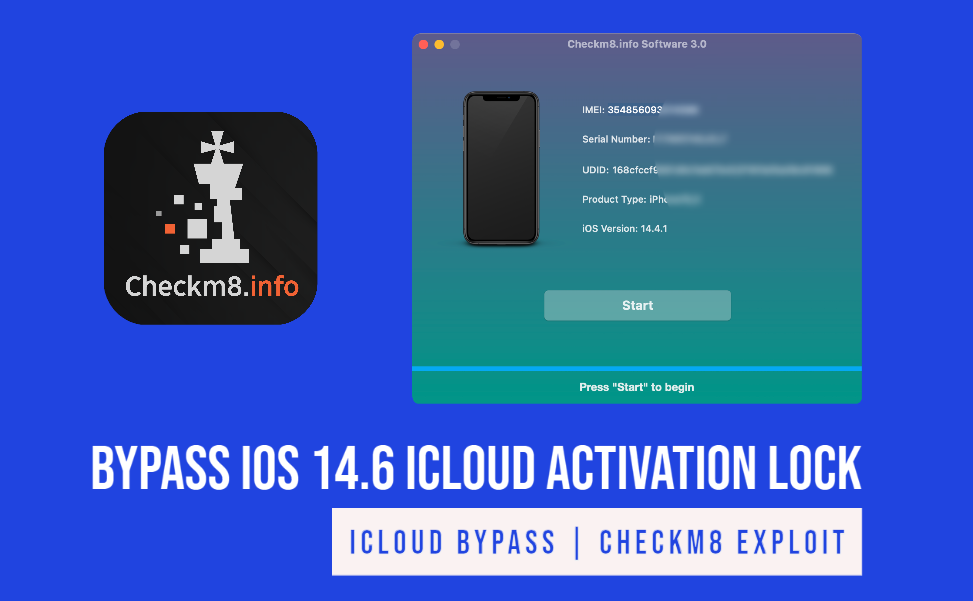 When the iPhone or iPad is iCloud locked, it is useless. When a user cannot unlock the screen lock, it is impossible to use the device, make calls, send text messages, use the internet, download apps, etc.
Use the CheckM8 bypass tool to bring your locked iPhone or iPad back to life and retrieve all its functions. This convenient software does everything for you remotely. All you need is to download it and follow the instructions you will see on your Mac's screen. At the moment, the bypass tool does not support Windows computers.
How to Bypass iOS 14.6 iCloud Activation Lock
You will have to download the CheckM8 software and install it on your macOS device.
Step 1. Let the software check your iPhone or iPad for compatibility. It has to be sure you are eligible for iOS 14.6 bypass with the CheckM8 tool.





Step 2. Jailbreak your iOS 14.6 device using the built-in Checkra1n in CheckM8 bypass software or by directly downloading the most recent version of Checkra1n.
Step 3. Once you are jailbroken and your eligibility to bypass iOS 14.6 iCloud Activation Lock is confirmed, place your order.
Step 4. It takes several moments for the CheckM8 software to record your iPhone or iPad IMEI number or serial number. Then you have a lifetime license to bypass iCloud lock with CheckM8 on the same iDevice in the future at no additional cost. It could be a perfect solution in cases of iOS update or factory reset.
Step 5. Click the single button to run the CheckM8 software after restarting it and removing the SIM card. Let the tool bypass iOS 14.6 iCloud Activation Lock. It takes a few minutes, and then you will enjoy all the features, functions, and things the iPhone or iPad can offer you.

Insert your SIM card, make calls, text message your friends, download iTunes apps, sign in with your Apple ID, and experience no problems.
Video Guide: Bypass iOS 14.6 Activation Lock via CheckM8.info Tool
Summary
The CheckM8 is now ready to bypass iOS 14.6 iCloud Activation Lock on your gadget. Give your iPhone or iPad a second chance without the Apple ID or passcode, and enjoy the user-friendly solution that takes only one click to fix your problem.