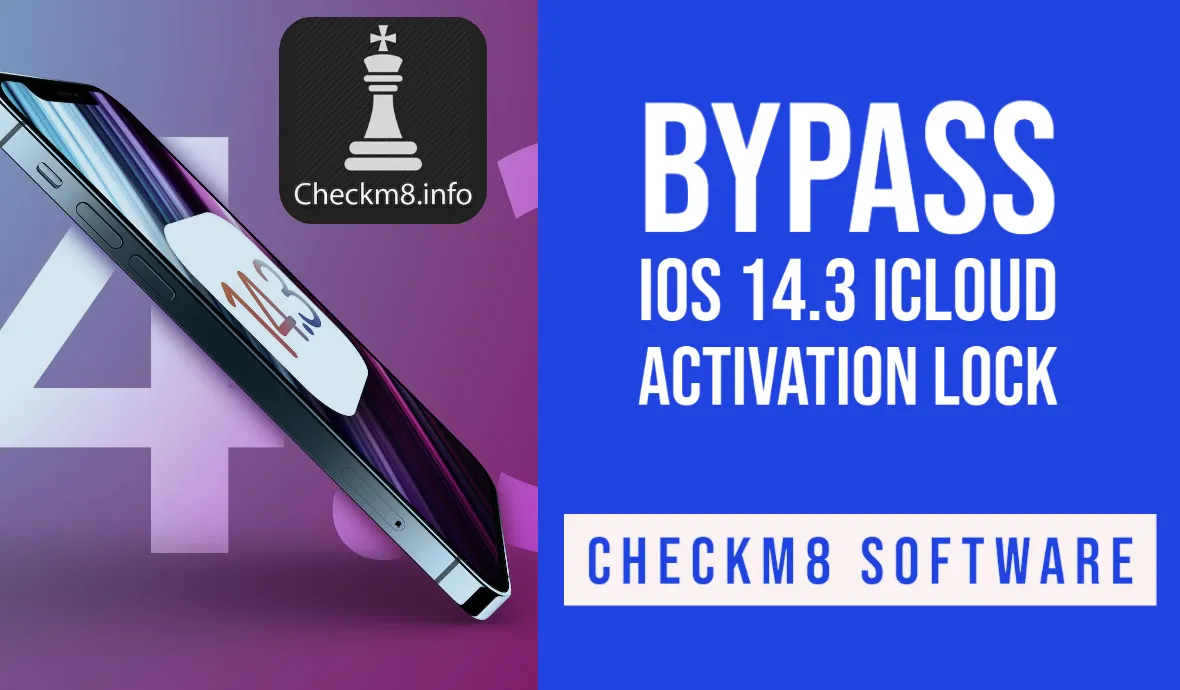 Apple just released iOS 14.3 and iPadOS 14.3 with a number of new features and bugs fixes. The Checkm8 dev team continuously updates Checkm8 Software and now it's ready to bypass Activation Lock on iPhones and iPads running on the latest iOS 14.3.
How to Bypass Activation Lock on iOS 14.3?
Checkm8 is trusted software designed to bypass iCloud Activation Lock on iPhones and iPads. The Checkm8 dev team just updated the software and it's ready to bypass Activation Lock Screen on devices running on the latest iOS 14.3.
The Checkm8 Software is very easy to use and it will remove iCloud Activation Lock for you just in 1 click! Once the Activation Lock is bypassed, you can start using your device with your own Apple ID.
The Checkm8 Software doesn't require a user to have any special training or tech skills to bypass the Activation Lock on iCloud Locked device. The bypassing process is very easy to perform and it comes to three steps:
1. Download Checkm8 iCloud Bypass Software and install it on your Mac and connect your iPhone/iPad/iPod to it.
2. Software will verify if your device is supported.
3. Place your order and remove the Activation Lock Screen on your iPhone, iPad or iPod touch.
You can choose between two options the Checkm8 Software offers to bypass the Activation Lock on your device running on iOS 14.3: with GSM module activation and without it. Please read the service description carefully to make sure your iPhone or iPad is supported for GSM module activation.
Use the Checkm8 Software to Bypass Activation Lock Screen on your iPhone or iPad running on iOS 14.3 and start using your device without any restrictions and with your own Apple ID immediately!
What's new in iOS 14.3?
Every next iOS version release introduces a number of new features. At the same time, each new version fixes bugs and issues which users discovered in previous versions. iOS 14.3 is no exception and we'll take a look at notable new features it offers.
Apple Fitness +
Apple Fitness + is the new paid services created by Apple and it offers guided video workouts by trainers Apple hired for this app development. Apple Fitness + works with Apple Watch which helps to track a user's progress through workouts. Apple charges $9.99 per month and also offers workouts suggestions and recommendations. The workouts can be watched on Apple TV, iPad or iPhone. Apple Watch metrics will also be displayed on the screen. The types of workouts a user can choose from are: High Intensity Interval Training, Indoor Cycling, Yoga, Core, Strength, Dance, Rowing, Treadmill Walking, Treadmill Running, Mindful Cooldown. However, the list of countries Apple Fitness + is available in is currently limited to Australia, Canada, Ireland, New Zealand, United Kingdom, and United States.
Cardio Fitness
Apple Watch now has a new Cardio Fitness feature which can be viewed in the Activity app on the iPhone. Cardio Fitness measures VO2 Max which is the maximum amount of oxygen your body is able to consume during exercise. This metric is helpful if you like to chart your overall fitness level and gains. Cardio fitness levels are available for users aged 20+ and are estimated by age.
Health App
Health app is now featured with a new pregnancy section which works with pregnancy tracking devices providing information on pregnancy. Now the app allows to indicate pregnancy, lactation or contraceptive use in the Cycle Tracking section of Health App for better period management and fertile window predictions.
AirPods Max
iOS 14.3 update also includes support for the newest product made by Apple which is AirPods Max. AirPods Max is the brand-new over-ear headphones. According to Apple, this update provides a high fidelity audio for rich sound, Adaptive EQ for sound adjustment in real time to the personal fit of the ear cushions, Active Noise Cancellation, Transparency mode, and Spatial audio with dynamic head tracking for a theater-like experience.
ProRaw Support for iPhones 12 Pro and 12 Pro Max
New ProRaw format becomes available for iPhone 12 Pro and iPhone 12 Pro Max with iOS 14.3 release. This format was designed for users preferring shooting in RAW, but who also would like to use Apple's image pipeline data, such as noise reduction and multiframe exposure adjustments. You can enable ProRaw feature in Camera settings.
More Camera Additions
New option was added for video recording, namely 25 frames per second record. Also, users of iPhones 6S, 6S Plus, iPhone SE, iPhones 7, 7 Plus, iPhones 8, 8 Plus, and iPhone X can now enable a new option to mirror the front camera for still photos. Earlier, this option was available for newer models only.
Siri Sounds
Now Siri can replicate a wide range of sounds, from animals and to alarms, musical instruments and so on. Just ask Siri, for example, what does lion sound like. Siri will not only play the sound, but will also display a picture of the animal or device making this sound, and link it to the information in Wikipedia.
Home Screen Shortcuts
With iOS 14.3 apps launching becomes faster and easier from Home Screen via custom icons. If you use Shortcuts to create a custom icon for an app, it will be opened much faster as it won't be rooted via the Shortcuts app anymore.
Ecosia Search Engine
Ecosia allows users to fund tree planting while searches are conducted. With iOS 14.3 you can set Ecosia as a default browser instead of Google, Yahoo, Bing, or DuckDuckGo.
TV App
A new Apple TV+ tab was added to make Apple TV+ original content discovering easier. The table also provides a better understanding of what is available within a subscription and what's not. Search feature was also enhanced to provide browsing by categories. When you start typing in the search field, you'll see recent search and suggestions displayed as well. Now Apple also displays the top search results with relevant matches across tv shows, movies, channels, cast, and sport.
App Clips
iOS 14.3 devices also support App Clips launching via Apple-designed App Clip Codes scanning using a device's camera or the shortcut in the Control Center.
Weather App
Weather App now offers air quality health recommendations for specific air quality levels. This feature is available for users in the U.S., UK, Germany, India, Mexico, and China. Breezometer is the air quality data provider.
Bug Fixes
iOS 14.3 fixes bugs related to:
Failure to receive some MMS messages
Members displaying in contact groups while writing a message
Improper video appearance when shared from the Photo app
Photo app folders opening failure
Apps opened from Spotlight may not work
Bluetooth options appearance in Settings.
Wireless iPhone charging to the maximum power using MagSafe Duo.