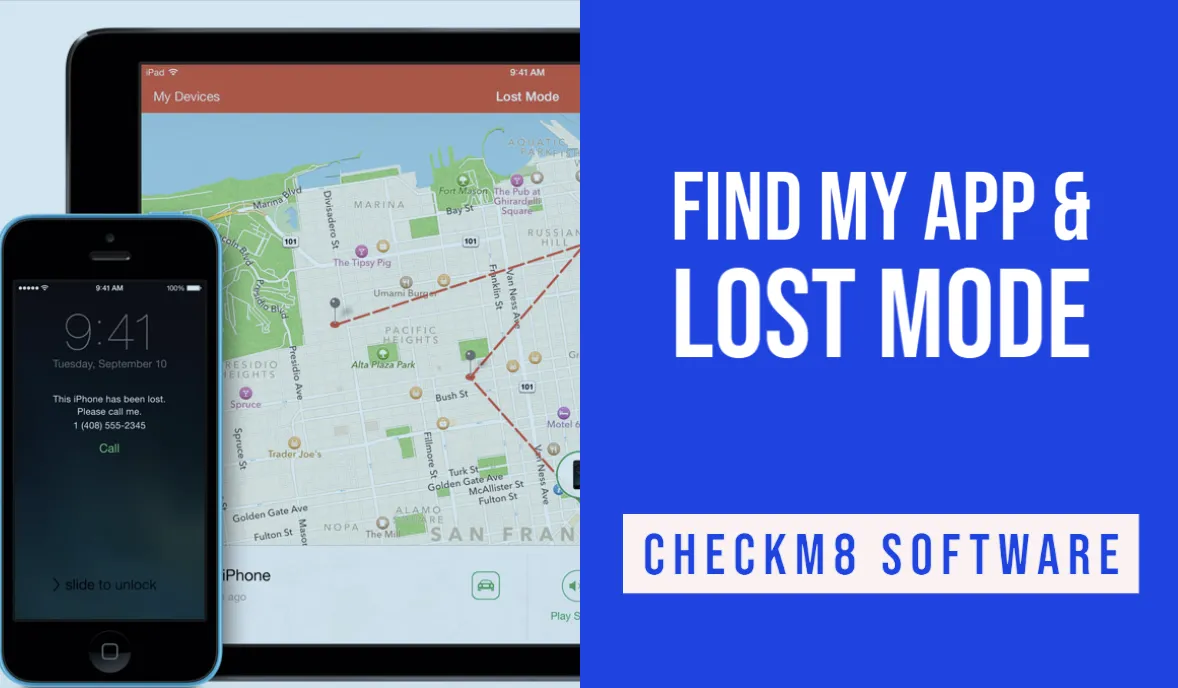 Pretty much each iPhone and iPad user heard of iCloud Lost Mode which can be activated on their devices in case they are lost or stolen. But it's quite possible that you aren't aware of Lost Mode features, as well as how it works, and how to turn it off. In this post, you'll find all information on Lost Mode and how to deal with it.
What Is iCloud Lost Mode and What Does Lost Mode do?
iCloud Lost Mode is a security feature designed by Apple as a part of Find My app. As you may already know, Find My allows Apple devices users to get their misplaced or stolen devices back by locking these devices which makes their further use next to impossible. Lost Mode is a part of this process.
Let's take a closer look at iCloud Lost Mode and what exactly it can do. So, the very first thing to know here is that putting an iPhone or iPad in Lost Mode is possible if a device is linked to iCloud and Find My was On before you lost it. Most likely that you did turn it on as it is a recommended action while signing in to iCloud on your iPhone or iPad.
In fact, iCloud Lost Mode protects all your personal information and other content on your device by locking it. If your iPhone or iPad is protected with a passcode, it will be required to be entered to unlock your device and turn Lost Mode off. If it has no passcode, you'll be prompted to set one and you'll have to enter it once your iPhone is back to you.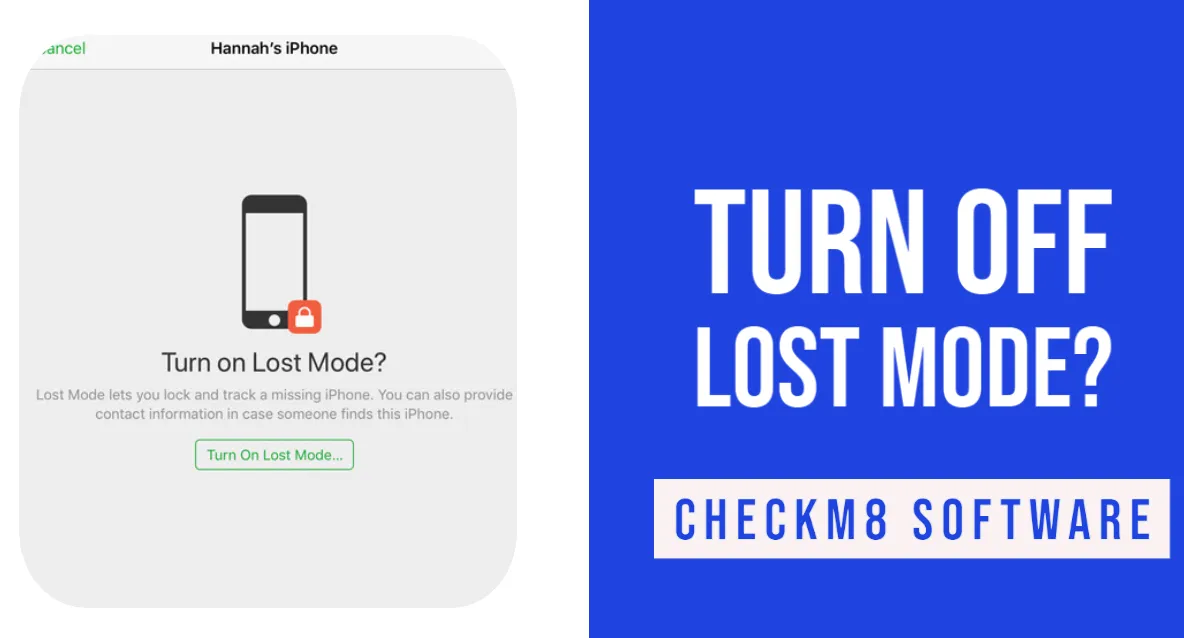 However, an iPhone locking is not the only thing iCloud Lost Mode can do. This feature also allows you to track your device, display a custom message saying that this device is lost and a phone number to reach you to return it. If your device was gone for a while and you lost hope to ever get it back, you can also remotely erase it using the Lost Mode menu to make sure your information won't be available to anyone but you.
In case you think your iPhone is still nearby, or you lost it somewhere at your place, Lost Mode also allows you to play a sound in your device to locate it.
You never know what happens next moment, so you might need to use Lost Mode at some point. To do so, log in to iCloud on your iPhone or iPad using your Apple ID and password and turn Find My on. If you ever need to activate Lost Mode, you can use your any other Apple device linked to the same Apple ID in Find My app, or use any web browser on any computer to access your iCloud account at iCloud.com. Just select the device you wish to put in Lost Mode from the list of your devices and follow the on-screen instructions.
How to Check iCloud Lost Mode?
Anyone may face a need tocheck whether their iPhone or iPad is in iCloud Lost Mode. This may be a wise thing to do also if you are going to buy a used Apple device online or in a marketplace. There is an easy and absolutely FREE way to check iCloud Lost Mode Status of a device.
Check Mac
Check online Mac Serial number and get full Tech Specs
Check SIM Lock
Check if your iPhone is SIM card (carrier) locked for free!
Check iCloud
Check online iPhone & iPad iCloud Find My Status
Check Lost Mode
Check online iPhone & iPad iCloud Lost Mode Status
You can use a free iCloud Lost Mode Status checker by CheckM8. All you need to do is submit the IMEI Number of the device in the form at CheckM8 website and click Check IMEI button.
How to Turn Off iCloud Lost Mode
Once your misplaced or lost iPhone or iPad is back in your hands, you can easily unlock it and start using it right away by entering its passcode on the device itself. To turn off iCloud Lost mode, you can go to Find My app on the device, select the Lost Mode menu and stop the Lost Mode.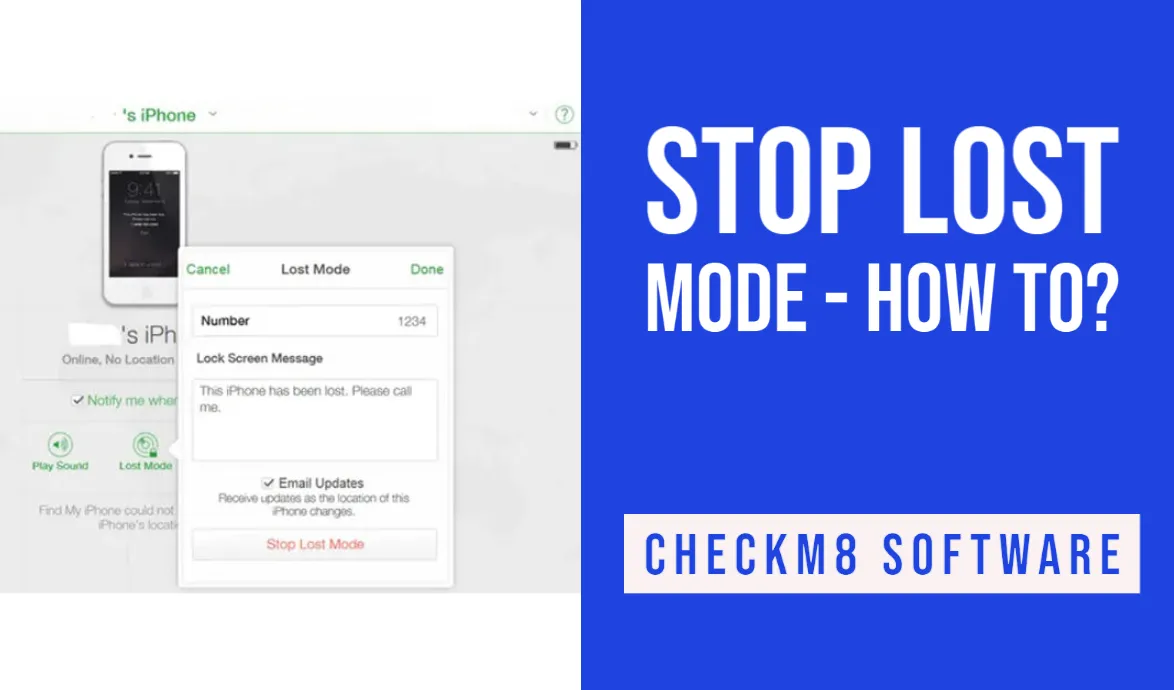 The other option is to use the Lost Mode interface on iCloud using a web browser on the computer. Log in to iCloud, go to Find My menu and click on the "Stop Lost Mode" button.
How to Bypass iCloud Lost Mode
Anything may go wrong and you may face a need to bypass iCloud Lost Mode on your iPhone or iPad. This may happen because you forgot \ lost the passcode used for putting your device in lost mode, or you bought a used device in Lost Mode. If you ever find yourself in such circumstances, this is not a problem. iCloud Activation Lock Bypass software designed by CheckM8 dev team will help you to solve this problem just in 1 click!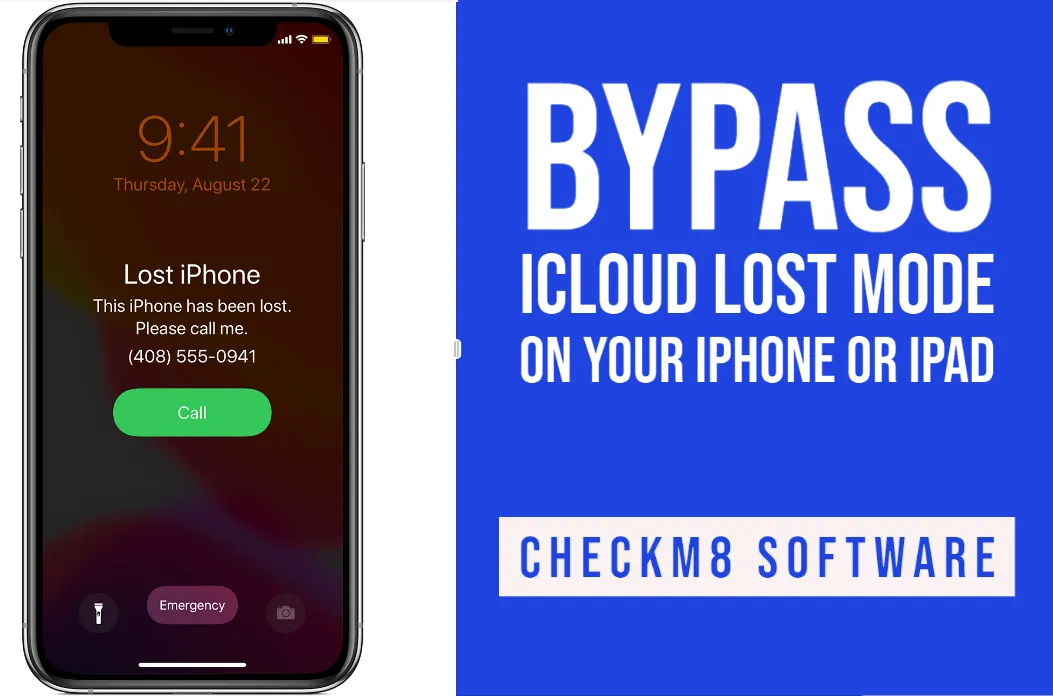 CheckM8 iCloud Activation Lock Bypass software is a reliable and trusted solution capable of bypassing both iCloud Activation Lock Screen and iCloud Lost Mode on the following Apple devices running on iOS 12.4 – 14.x.x:
- iPhones SE, 6, 6S, 7, 7 Plus, 8, 8 Plus and X models;
- iPad Air (1, 2), iPad Mini (2, 3, 4), iPad (5, 6, 7), iPad Pro (1, 2), iPad Pro (9.7 & 10.5 in.).
iCloud Activation Lock Bypass software by CheckM8 is very easy to use and its user-friendly interface makes it possible to use it for any user with no tech background and skills. The process is easy to perform and you'll be able to use your iPhone or iPad once the bypassing process is complete.
The Lost Mode bypassing process will last for a minute.
Three simple you should take are:
1. Download CheckM8 Software, install it on your Mac computer, and connect your iPhone or iPad to it.
2. Software will verify whether your device is supported.
3. Place your order and bypass Lost Mode on your iPhone or iPad.
CheckM8 Software offers this service in two options: with GSM module activation and without it. You can choose the option you need but if you need GSM module activation option, please read the service description carefully to make sure your device is supported.
Another advantage of CheckM8 Software is that you pay once and can reuse the software for FREE as many times as you need in case of relock on the iPhone or iPad IMEI number of which was indicated in the order form. You can also use your device with your own Apple ID. Bypass Lost Mode on your iPhone or iPad in 1 click and enjoy its features with no restrictions!