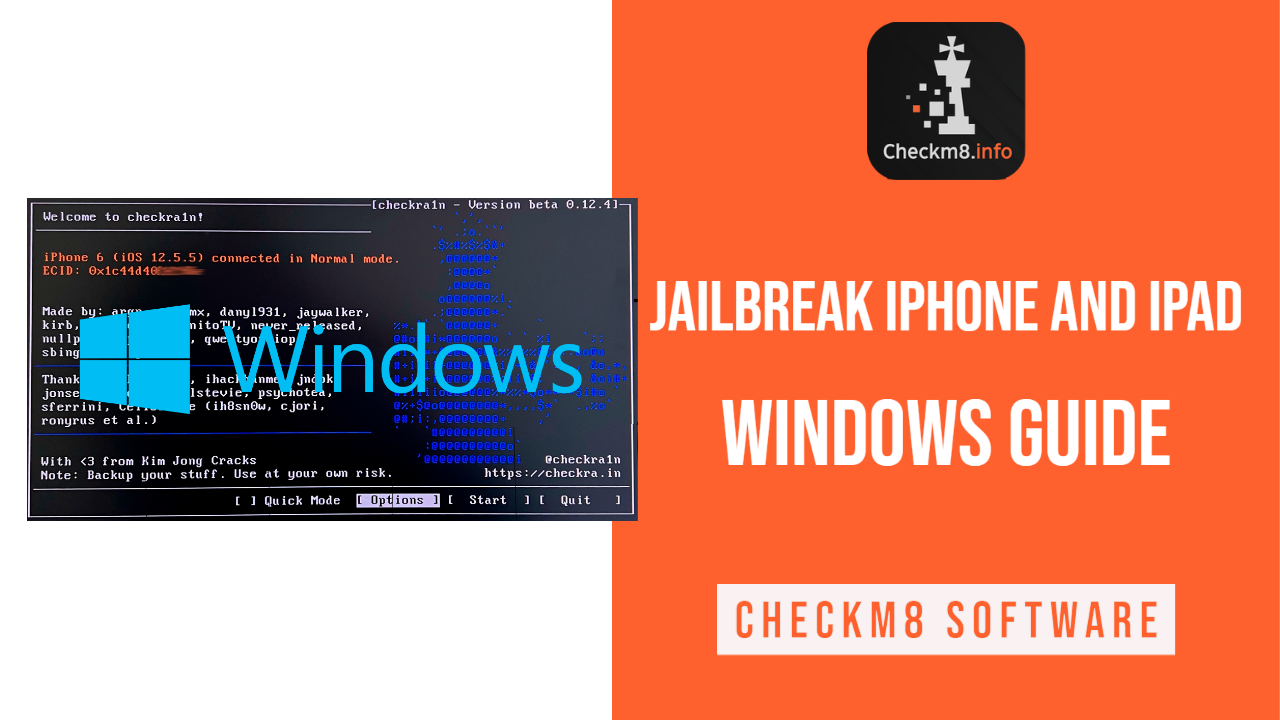 Checkra1n Jailbreak is currently the best jailbreaking tool for iOS 12.3 - 14.8.1 devices. But unfortunately, it can only run on macOS devices, although the Checkra1n Dev team promises to update its popular iOS jailbreak to use on Windows PC. While such a release is a future possibility, you might wish to perform iOS jailbreak on Windows with Checkra1n right now. Great news! Use a simple workaround solution described below.
We have compiled a user-friendly guide to help you jailbreak iPhone and iPad on Windows computer with Checkra1n Jailbreak built into Checkn1x Tool. You can also bypass iOS Activation Lock on Windows computers with CheckM8 using this method as soon as you jailbreak your iOS 12.3 - 14.8.1 device.
Checkn1x Windows Jailbreak for iOS Devices
An innovative Checkn1x tool is an excellent option for every iPhone and iPad user who wants to jailbreak an iOS device on a Windows PC instead of a Mac computer.
Read a detailed instruction on how to run Checkn1x Windows jailbreak for iOS devices to jailbreak iOS 12.3 up to 14.8.1 with popular Checkra1n software. Also, learn how to bypass Activation Lock on your Apple device using the CheckM8 service on Windows PC. Everything is super easy!
You will find out that Checkn1x is a user-friendly and quick method of jailbreaking Apple iPhone and iPad models. The tool is compatible with gadgets on iOS 12 up to 14.8.1. It makes it easy to run the Checkra1n on a Windows PC.
About Checkn1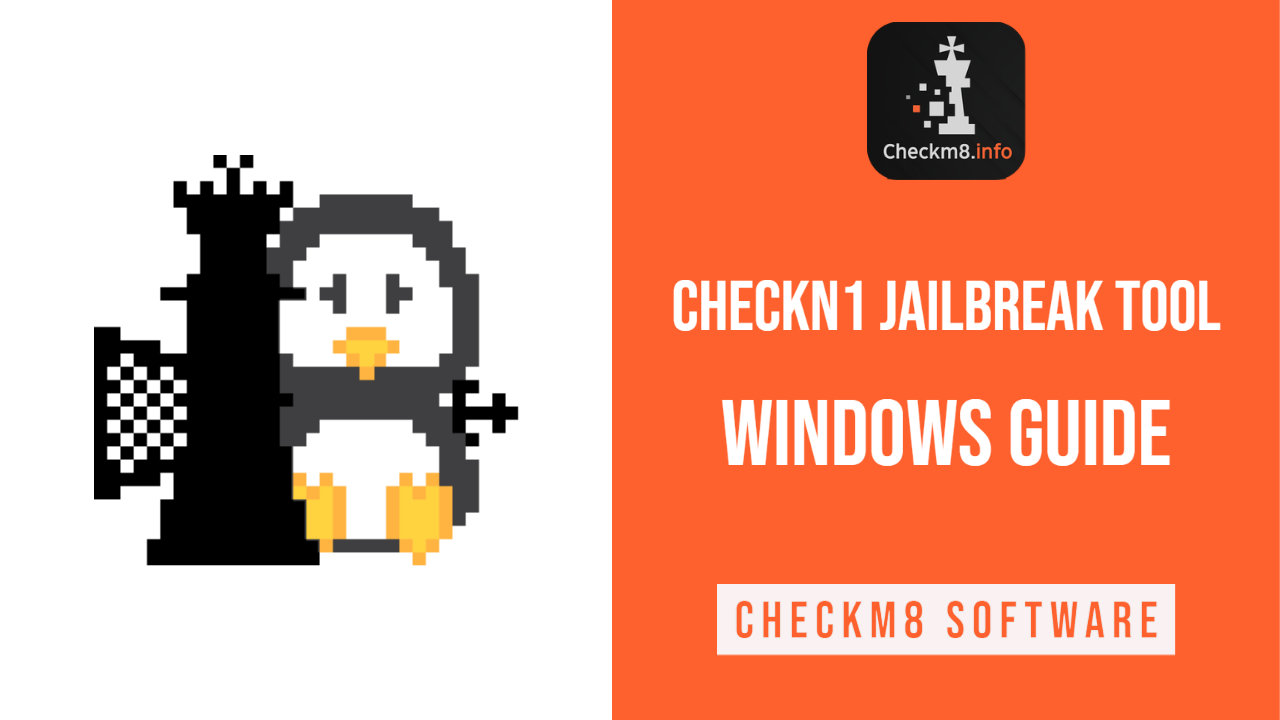 The new solution called Checkn1x is a light Linux ISO distribution (only 50MB) that has Checkra1n Jailbreak preinstalled. The best thing about such a helpful tool is that Checkn1x will not run on a Windows PC's hard drive and will never destroy any of your computer files. It relies on a flash drive that comes with Checkn1x installation.
Here are the things needed for a successful iOS jailbreak on Windows:
Windows PC (the computer has to be with 64-bit Intel or AMD processor);
USB flash drive with at least 256 MB of space (or more);
Download BalenaEtcher (a cross-platform solution for flashing OS images onto USB drives).
How to Jailbreak iOS Device with Checkn1x: Detailed Guide
Please note! It is essential to use Lightning to USB cable only! A Lightning - USB type C cable will not work!
1. Download and install BalenaEtcher on a Windows computer. Launch this cross-platform tool.

2. Look into your "Downloads" folder and select a file titled "checkn1x.iso," then connect a USB flash drive to use this ISO file. Flash the ISO to the USB drive.

3. It is necessary to reboot a computer and then access the Boot Menu correctly. Usually, F2, F10, Esc, or F12 keys will make everything work perfectly. A startup screen shows the key that works for your particular Windows PC or its motherboard manufacturer. But if you are not sure what keys to press, google "how to access boot menu on Windows" by specifying your computer's brand and model.
4. Choose to boot from the flash drive. Wait, and after a device boots, you will get to Checkra1n's Linux GUI version.
5. It is time to connect an iPhone or iPad you wish to jailbreak to Windows PC. Press "Start" to continue.

6. The Checkra1n tool will ask you to enter Recovery Mode on an iOS device. Press "Next" and wait for the software to perform this step on your behalf.

7. Once your iPhone or iPad is in the Recovery Mode, the iOS Jailbreak software will ask you to enter the DFU mode on a mobile device. There will be details on-screen on how to accomplish this task. Follow them or use a step-by-step how-to set DFU mode instruction. Press "Start" to move on.

8. When the iOS gadget is in DFU mode, touch nothing and do nothing. Just be patient until there is an "All Done" message.
Awesome! Your iOS gadget is jailbroken. It means you can now restart your Windows PC and wait for it to boot.
How to Bypass Activation Lock Screen using CheckM8 and Windows PC
The CheckM8 service is ready to bypass Activation Lock on your jailbroken iPhone or iPad. You can remove all Apple restrictions from a compatible iOS device on a Windows computer.
Here are guidelines for successful bypassing.
Step 1. From the official CheckM8.info site, download the Windows version of CheckM8 Activation Lock Bypass software.
Step 2. It is a must to install CheckM8 on Windows PC. But beforehand, turn off antivirus and other software that could block the internet and CheckM8 tool.
Step 3. Launch and run CheckM8 software, and it will at once run a quick check of your iPhone or iPad, ensuring it is eligible for bypass. You will find yourself at the checkout page if the inspection is successful.





The CheckM8 tool will check the device for jailbreak status. If your iPhone or iPad is not jailbroken, the tool will inform you and show you a link to the Windows jailbreak guide:



Step 4. Pay for your order. After receiving payment, the bypass tool will record your iPhone/iPad IMEI or serial number. You can run the software at once. You are granted a license for using the CheckM8 tool on the one mobile device you are now bypassing.

Step 5. The iPhone or iPad must now be reconnected. After this, a "Bypass" button will appear, and you can press it. Be patient until the gadget reboots. Then there will be a notification about a successful Activation Lock screen bypass.
After you perform iOS Jailbreak on Windows with Checkra1n and bypass the iCloud Activation Lock screen with CheckM8 on your iPhone or iPad, use it as if new. You are free to get iTunes apps, download games, connect to Wi-Fi and mobile internet, call your friends, answer phone calls, text message everyone, etc. Full freedom! No restrictions!